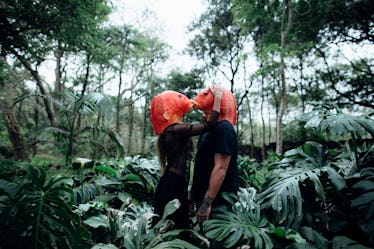 If You're A Pisces, Astrologers Say You'll Love These 4 Sex Positions
The phrase, "last, but not least" was perhaps invented to describe dreamy Pisces. The 12th and last sign of the zodiac, water sign Pisces is literally represented by fish — specifically, two fish that kind of look like they're in a compromising position. Pisces are sultry, imaginative, and known for their intuition — mentally and physically. It's no wonder then that the sex positions Pisceans will love are totally hot, while still incredibly in tune with their partner(s)' needs.
"Pisces is represented by two fish. They are a water element and with Neptune as their ruler, they can be romantic, steamy, and passively seductive," astrologer Cindy Mckean tells Elite Daily. "Sex in the shower, pool, sea, bathtub merges well with the Piscean soul." Getting it on in their natural element, incorporating some literal fluidity may make Piscean sex better than ever.
For astrologer Lisa Stardust, the 12th sign may really get into fantasy. "Pisces are into intrigue and fantasy, thus making them more inclined to role play, and enjoy fun games and pegging in bed. They will do anything to please their partner," Stardust says.
If you or your boo is a dreamy Pisces queen, here are four moves that may send you both upstream.