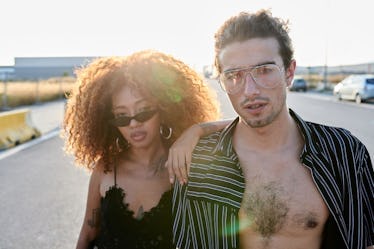 3 Saucy Sex Moves Every Virgo Should Try Tonight, Because YOLO
Saying that Virgos are "smart" or "analytical" doesn't give them enough credit. Virgos are clever as the devil and twice as pretty. They're always the smartest people in the room. Sometimes, people come in contact with their no-nonsense, analytical nature and write them off as unemotional. But Virgos show how much they care in other ways. When it comes to sex positions for Virgos, the ones that are gonna satisfy them the most are the ones that have to do with their strong work ethic and desire to learn. Because a Virgo's knack for knowledge? They'd be hard-pressed not to put that big ol' Virgo brain and that sparkling Virgo ambition to good use.
Virgos make ideal partners. They're going to remember all your dirty little kinks and indulge them accordingly if they're comfortable with them. Virgos are the type of the sign to low-key spend hours reading up about fetishes or watching Dr. Lindsey Doe's Sexplanations on YouTube brushing up on how to please you. Despite the Virgo's characterization as the virginal sign — virginity is social construct, anyway! — a Virgo's freak flag is always four, five seconds from flying. Here are three thoughtfully dirty sex positions a Virgo is bound to love.