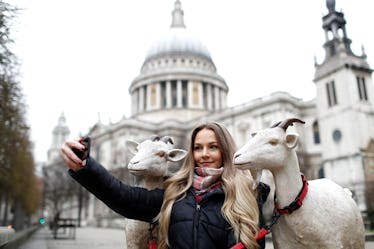 3 Sex Positions For Capricorns That Really Are The G.O.A.T.
John Phillips/Getty Images Entertainment/Getty Images
Known as the father of the zodiac, it's safe to say that Capricorns are natural zaddies. Allow me to explain: They're often pre-occupied with getting promotions at work and stressing about the power bill being too high, like the dad in a '90s sitcom. The tenth marker of the zodiac, Capricorn is an earth sign know for its ability to rise to the top — slowly but steadily. Maybe that's why these sex positions that Capricorns love really get down to it. (full disclosure: I'm a Capricorn.)
"Capricorn is known for their strength and fortitude. They thrive in situations where they can achieve a desired level of success," Linda Furiate, consulting astrologer, specializing in addictive behavior and relationships, tells Elite Daily. "Their approach in the bedroom is like their approach in the board room — they want to win and to command respect."
Although some may say they're "obsessed with success" or "aren't emotional," in reality, Capricorns just want what's best for everyone, especially our loved ones, and especially our loved ones in the bedroom. (I promise we do have feelings and loved ones.)
These three moves for Capricorns will make the sexy times feel as good as monetary security or getting that promotion.