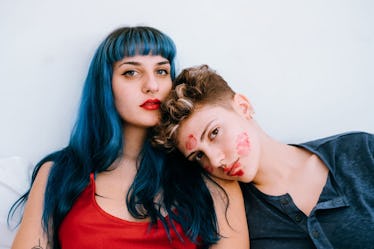 5 Sex Positions Every Libra Should Try At Least Once In Their Lifetime
When it comes to sex and love, Libras take the cake. Not only do they live for romance in all its forms — indie market dates, old castles, dripping candle wax, a swell of dramatic music, a coyly flirty text — but they're good at being in partnerships, too. Their thoughtful, indulgent, just, and dreamy nature makes them great for meeting the parents (an ace at romantic relationships) as well as great in bed (an ace at sexual ones). When it comes sex positions for Libras, they're drawn to those that balance their soft, charming side and the half that wants to have their cake and eat it, too.
Those born between Sept. 23 and Oct. 23 are known for being "old-school romantics with a freaky side." (Just think of our favorite, famous and iconic Libra femmes: Cardi B, Halsey, Dita von Teese, Serena Williams and an America's own Aphrodite, Kim Kardashian.) Sometimes, a Libra is going to want to make love. Sometimes, they're going to want to get bent over. Ideally, a Libra would like a bit of both — with an extra dash of adventure mixed in. Here are five sex positions Libras should try if they're looking for an extra starry night.