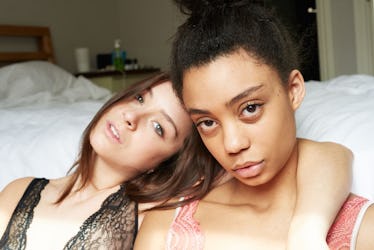 4 OB-GYNs & Sexperts Straighten Out The One Sex Misconception They Hear All The Time
If you're sexually active, there will come a time where you end up bumping against the biggest misconceptions about sex. You'll be furiously Googling as you wonder what's fact and what's fiction. A lot of us know, for example, that the pull-out method is a "no" when it comes to contraception. (According to Planned Parenthood, it's only 78 percent effective at preventing pregnancy.) But do you have to use condoms all the time? And OK, what about if you're on hormonal birth control? (The answer to that is a resounding "yes!") There's a number of other aspects of sex that are shrouded in mystery, such as whether you can get pregnant having period sex (spoiler alert: it's not common,, but you still can if you have a vagina and are hooking up with someone with a penis) and if foreplay is really that important. There's also the question of STIs, how you can contract them, and what to keep in mind about them if you do.
And so it's time to shed some light on common myths about sex and blow away the fog that shrouds a lot of the mechanics of sex in mystery. Here are 10 misconceptions about sex that gynecologists, clinical sexologists, and fertility experts hear from their patients all the time.