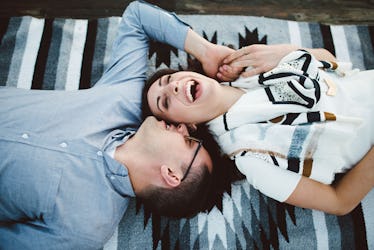 The Steamy Sex Move You Should Try This Thanksgiving, Based On Your Zodiac Sign
When you think of Thanksgiving, you probably think of pumpkin pie, crowded airports, and hot sex — right? Okay, maybe not the last one, but there are actually plenty of reasons to associate this holiday with having great sex. You're on vacation, you have time to relax, and you'll need to stay warm somehow. In an effort to (pumpkin) spice up your holiday sex life, why not try a Thanksgiving sex position based on your zodiac sign. Get ready, because now I get to combine two of my favorite things — astrology and sexual holiday puns!
Your zodiac sign has a lot to do with influencing certain elements of your personality, behavioral instincts, and ways of looking at the world. Understanding what your sign means can help you understand yourself a bit better, and if you're a part of a couple, it's helpful to know how your sign interacts with your partner's. This insight can be useful in your daily life as well as in your sex life.
Each sign approaches sex in a different way — some prefer to be intimate with one long-term partner if possible, while others are open to any and all forms of sexual activity. If you're looking to be grateful for getting it on, read below to find some holiday-themed sex-spiration!