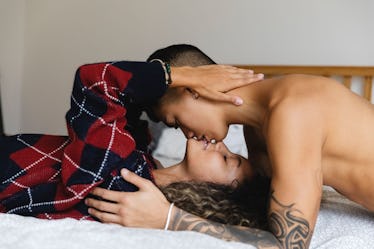 8 Sex Positions To Try In 2019 That Are Perfect For A "New Year, New You"
Whether you're locked down in a serious relationship or casually hooking up, the new year is a perfect time to expand your horizons in the bedroom and try a few new things. If you're fresh out of frisky ideas and want to keep the steam going, you might be wondering which sex positions to try in 2019.
Toward the beginning of many relationships, sex is extra hot and sometimes even creative, but over time, that innovative passion can fizzle out. Maybe you and your partner are in a sex slump, or perhaps you just want to experiment in bed to enhance your pleasure and ultimately, have more fun. Depending on your current routine (or lack thereof), you and your partner could benefit from trying out remixed versions of classic positions, or you might want to dip into some completely new sex moves. If your New Year's resolutions involve amping up your sex life, you could probably use some X-rated inspo. Don't worry, sex kittens: I've got you covered.
When you've gotten into a predictable routine with sex and want to spice things up, you might be unsure about where to start. In 2019, consider trying out these eight sex positions that are anything but basic.