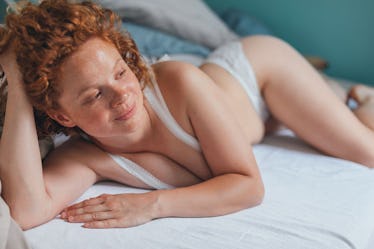 4 Ways To Manifest Mindblowing Sex In Your Life, According To Experts
Recently, I saw an ad on the subway that said, "Reading about your work is like reading about sex." I was so baffled by the ad that I actually LOL'd on the train and people definitely stared. But I couldn't help it! The ad was so... false. Reading about sex (and your job, for that matter) can actually benefit you a lot! And this is because, when you're curious about how to manifest better sex in your life, it's all about getting to know your body and what you like.
According to Kate Moyle, sexual & relationship psychotherapist, if you want to invite better sex into your life, you can start by taking your pleasure into your own hands (pun intended). "A healthy sex life comes in all different shapes and sizes, and you don't have to be in a relationship to experience pleasure," she says.
Masturbation, sex, research, workshops, and communication are all tools that help you get to know your sexuality and what works for you. For example, if you're interested in new masturbation techniques, you could potentially research a sex toy that sounds intriguing. Or you could sign up for a workshop on a specific sex technique that you've been wanting to try. Whatever your goals are, there are ways to make them happen. If you're interested in manifesting great sex into your life and into your bedroom, consider the following tips.