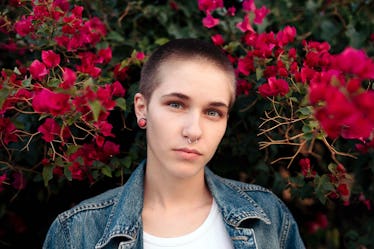 6 Ways To Manifest True Love In Your Life, According To Experts
There's something about cuffing season, colder weather, and the fast-approaching holidays that makes it easy to tune in to my favorite romance movies. Between those classic films, the recent release of Netflix's Dumplin' and the contagious onscreen chemistry of Chidi and Eleanor in The Good Place, true love is on my mind. The thing is... I want to experience true love like this IRL, too. In order to make my daydreams a reality, I asked some brilliant experts how to manifest true love into my life. Trina Leckie, breakup coach and host of the podcast breakup BOOST, and life coach Nina Rubin have shared some powerful tips for making room in your life for love.
When it comes to looking for new relationships, these experts stress that you deserve nothing but the best when it comes to your love life. According to Leckie, when you're single, it's essential to put yourself first, care for yourself, and reflect on what you want in future relationships. When you feel ready to look for love, Rubin has explained that it's important to nurture all aspects of your life with what you want in mind. For instance, if you're ready to look for love, consider telling friends and family what you want. This could help normalize a very vulnerable desire and increase your confidence on the subject. If you're interested in making room in your life for love, consider trying the following tips from Leckie and Rubin.