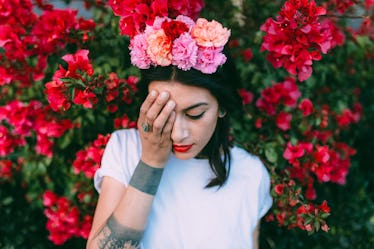 A Breakup Expert Offers 4 Tips For Making It Through This Rough Patch
It can be hard when the emotional aftermath of a breakup finally sets in and you feel like you'll never get over it. The truth is, although things might suck right now, you're not going to feel like this forever. Giving yourself time to heal isn't easy. To pass the time, consider trying out some of the best breakup tips from breakup coach and host of the podcast breakup BOOST Trina Leckie to soothe your broken heart.
I, too, have experienced a breakup that felt like a meteor had plummeted into my life and left a giant crater. I distinctly remember walking to class a couple of days after a breakup with my first love, and nothing felt remotely OK. I texted my cousin asking her to tell me it would eventually get better, because I wasn't sure if it ever would. She explained that things would eventually improve, even though it may take time. She was right. It did, in fact, get better.
When I was struggling back then, and people told me to give it time, I shrugged off that advice. It didn't feel helpful at all. Now, though, I understand they were saying it because it's true. You can grow so much during a post-breakup rough patch because it gives you a chance to heal on your own and understand what you need to grow. Give the following tips from Leckie a try so you can start feeling like yourself again.