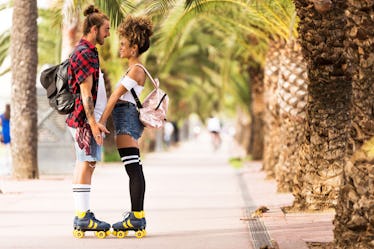 10 Dating Resolutions To Make For 2019 That Are Actually Easy To Keep
As we say "thank u, next" to 2018, it's time to look ahead to the next 12 months and start to think about our 2019 #goals. Maybe next year you want to focus more on your health, maybe you want to try to gossip less, or maybe — just maybe — you want to amp up your dating game. As New Year's resolutions are notoriously difficult to keep, you might be wondering what dating resolutions to make for 2019.
Well, your dating goals should ultimately be formed around what you'd like to accomplish. Do you want to meet more people? Do you want to go on more dates? Do you want to fall in love with single life? Do you want to take a dive into a long-term relationship?
For some, reaching your dating goals might mean saying yes to more dates or saying goodbye to dating FOMO. For others, it might involve being honest about what you are (or aren't) looking for, dating people who aren't your typical "type," or finding someone to call bae. There are no wrong answers here.
These 10 dating resolutions for 2019 are actually easy to keep, and trying a few of them out might just help you get closer to whatever it is you really want.