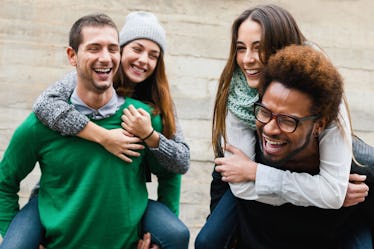 11 Amazing Group Date Ideas That'll Get You & Your BFFs Triple-Dating In No Time
I genuinely love going on double or group dates, because it's essentially just a ~romantic~ version of a group-hang. As we get older and life gets busier and busier, it seems like group activities get fewer and farther between. But a good group date has the potential to bring it all back. Plus, since it's not something you do all the time, it's the perfect excuse to level up and do something special. There are plenty of amazing group date ideas — things that you could do just one-on-one with your boo, but are just so much more fun when you have at least a couple more folks joining in on the adventure.
It also means there are more people who can pitch in, so you can even splurge and do things that might be beyond your budget on your own. Group dates are a great way to make new memories, and form (and reinforce!) new bonds with your friends, as well as with your partner. See what I mean? Group dates are the best. With the holidays approaching, there is no time like the present to organize something with a few — or several — of your closest couple-friends. Not sure what to do on the group date? No worries, look no further. Below, some amazing ideas to get you started.