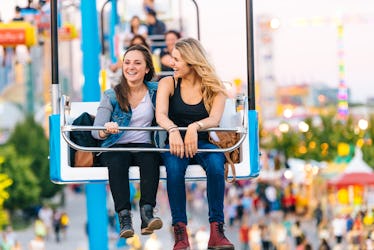 50 Actually Cool First Date Ideas That Aren't Drinks At A Bar For the 7th Time
How many times have you chatted with a seemingly decent person on a dating app (finally), decided to meet up with them instead of watching your 18th consecutive episode of Law & Order: SVU, only to meet up for drinks at a crowded bar where you can't even hear each other because it's so loud? Probably too many times. Well, I say enough of that. While there's nothing wrong with meeting up over dinner, drinks, or coffee, having some actually cool first date ideas to break up your standard routine might genuinely make dating (*gasp*) more enjoyable. Hey, even if the person turns out to be a dud, at least you did something fun, right?
Let's be real, though: Different people like different things. My idea of actually cool first dates may seem like an actual freaking nightmare to most some people. That's why Elite Daily rounded up a whopping 50 dope first date ideas from real people. Seriously, if you can't find one date on here that you're at least somewhat excited about about, I can't help you.
The next time you're tasked with planning the "perfect" first date — or the next time your first date suggests a couple drinks at the same dive bar you've been to 80 times — browse this list to help you create a fun time you won't forget... and maybe even score a second date.