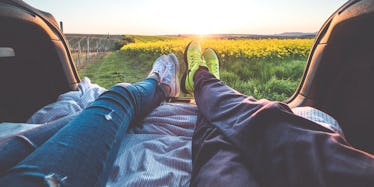 13 Non-Clichéd Summer Date Ideas For The Couple Who's Down For Anything
Picjumbo/Pexels
Dinner and a movie? Been there, done that.
Finding new dates for you and your boo just seems to get harder with every passing day. Especially in the summer, when the same few ideas pop up again and again, it feels impossible to find some adventure among the mundane.
Luckily, the opportunities are endless for adventurous couples. A date can be made out of almost any activity, no matter where you find yourselves.
Grab your special someone and get creative, because something new is around every corner.
Here are 13 non-clichéd summer date ideas for the couple who's always down for anything.
1. Volunteer Together
Pick something you're both passionate about, and research volunteer opportunities in the area.
There are a ton of outdoor events, like ocean cleanup days, that you can sign up to be a part of. Volunteering events are almost always free to join, and can be found even at the last minute for the spontaneous couple.
Non-profit organizations are always looking for volunteers as well, whether you can commit a few hours, or a day each week.
Animal shelters often recruit volunteer dog walkers, donation collectors, secretaries, and more.
Don't let any apprehensions stop you from making a difference.
2. Go Stargazing In The Back Of A Pickup Truck
Get away from the city lights and watch the stars as they light up the evening sky. Apps such as SkyView Free can help you locate constellations, planets, and stars from the comfort of your own smartphone.
For added stargazing comfort, make sure to pack lots of cozy blankets. You can lay them out in the bed of a pickup truck, on the hood of your car, or just out on the ground so you can relax with your other half, while you enjoy the night sky.
3. Check Out Your Local Farmers' Market, And Whip Up Something Delicious
With so many locally grown products all over the U.S., farmers' markets are the easiest way to buy fresh produce and baked goods. You can support local farmers while you do your grocery shopping together.
Use your fresh fruits and veggies to cook something delicious when you get home -- bonus points if you film yourself cooking, and act like you're on The Food Network.
4. Rent A Rowboat, And Get Out On The Water
Many lakes and beaches rent out kayaks and rowboats for a small hourly rate, so check it out.
You can also try out water sports, such as jet skiing or paddle boarding, if you're feeling extra adventurous. A simple float around the lake will do wonders in itself, too.
Boating is a relaxing way to get outside and enjoy both the sunshine and each other.
5. Just Drive, And Show Off Your Karaoke Skills
Get in the car and enjoy some carpool karaoke with bae. Sing along to your favorite hits and oldies as you laugh and enjoy each other's company.
No destination is required; have fun getting lost.
6. Attend An Improv Show
When in doubt, check out local schools for improv show opportunities. Many acting and theatre troops have improv shows in bigger cities, but student shows are just as funny.
You may have to do a little digging to find a place to go, but that's half of the fun.
7. Try Out An Escape Room
In an escape room, your group gets locked into a room and you have a certain amount of time to figure out a way to get out. It's basically a giant mystery game that forces you to work together whether you want to or not.
Many escape rooms are themed and can have added haunted house-like effects, but during the daytime, most are family-friendly and simply a challenge.
8. Find The Best View, And Soak It All Up
Whether you know of any viewpoints or not, try to find the best view in your area, whether it be in the mountains, overlooking a city, or with a clear view of the night sky.
Make it a challenge to see who can find the best view. Loser has to drive home.
9. Attend A County Fair
While county fairs are an American summer tradition, it's not overused enough as a date to make it a cliché. Sure we've seen it in Nicholas Sparks novels and such, but who doesn't love a bit of a classic love story?
County fairs can actually be some of the weirdest, most unpredictable date locations. There's art, animals, and an amusement park all in one place, so the possibilities really are endless.
10. Run An Impromptu 5k
Pick a random starting place, and just go for it. It doesn't matter where you go, or how long it takes, as long as you're doing it together and enjoying yourselves.
For an added challenge, take a different route than your SO and see where you each end up. Try to catch up to each other, or race back to the starting point.
11. Find The Best Dessert In Your Town
Instead of going out to dinner, go out for dessert.
Better yet, treat yourselves to as many desserts as you can handle, hopping from one place to another, until you find the best dessert.
12. Surprise Your Other Half With A Mystery Date
Take turns with your guy or gal picking a date that the other won't know about until it happens. You can plan on an appropriate date and time, but hold off on any unnecessary info until you get there.
You can play a few rounds of this mystery game as the summer goes on, and you may even find a new hobby or favorite restaurant along your exciting journey.
13. Plant A Tree, And Name It
One of the most rewarding things a couple can do together is making a difference for someone (or something) else.
Send a little love back to Mother Nature by planting a tree, or starting your own bee-friendly garden. The actual process takes so little time, but you'll have a beautiful piece of nature nearby for a long time... and it will be yours.