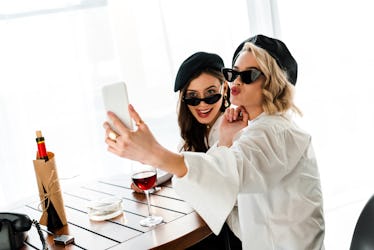 These Super Trendy Wine Essentials Are Everything For A Backyard Tasting This Fall
Shutterstock
This summer, you've learned that backyard plans are so underrated. There's nothing quite like kicking back on your patio, relaxing, and uncorking your favorite bottle of wine. That's why, as fall approaches, you should really learn all the ins and outs of how to plan a wine tasting at home. Get ready to whip out your favorite wines, charcuterie delights, and chic glasses, and take two or three days to straight up sip and chill.
You don't want to miss out on the amenities like aesthetically-pleasing cheese boards and tasting menus that you'd usually enjoy at an actual winery. You can still experience those perks right in your own backyard — and you don't have to take off your slippers. Although you might not have views of endless vineyards or the Californian mountains, you can create or shop everything else that falls under the category of "luxe" and bring your wine-ing experience to the next level.
Fall is still a few weeks away, so you have time to place an order at one or many of these shops and create a grape at-home experience. Be sure to snap pics of your final set-up that includes these products. Your followers are sure to be inspired to plan their own wine tasting right at home, too.