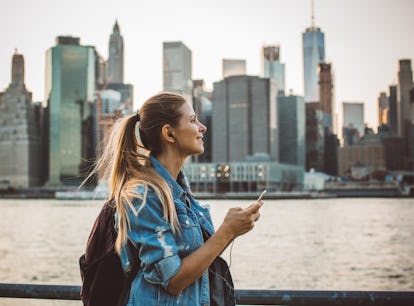 30 Instagram Captions For Skylines That'll Give You So Many Feels
City of stars, are you shining just for me?
What makes a skyline view so appealing? Is it the fact that it can make you feel so small against the massive, towering buildings? Or is it when you're able to capture the vibrant sunsets and silhouettes that look straight out of an episode of Euphoria? Whatever the reason is, taking skyline pictures to share on social media is a must anytime you're traveling to a new city. Once you've picked out the best shot, you'll need skyline quotes to complete your post.
Every city's skyline is unique, which is what makes experiencing them in person so incredible. You wouldn't mistake New York City's skyline for Chicago's or Los Angeles' because they each have distinct features and iconic buildings that set them apart. A skyline can also drastically change when the sun sets and all the buildings light up. It can really look like the city is sparkling. Since each view is a different experience, you need a range of skyline quotes from witty to inspirational for the wide range of feels you may be experiencing.
For instance, a daytime shot of "The Windy City" will require some Chicago Instagram captions, but you wouldn't want to use those same Chicago captions for a nighttime snap of NYC. You want your Instagram game to be on point, which is why you need to match the right city pic to the most appropriate skyline caption. That's where these 30 skyline quotes will come in handy.
If you ever embark on a cross-country trip of the U.S., gathering a collage of skylines will be a must. Now, you'll be ready with just enough captions to accompany you on your journey to see every city's silhouette.
"Wherever you are, be all there." — Jim Elliot
"City of stars, are you shining just for me?" — "City of Stars" from La La Land
"I would give the greatest sunset in the world for one sight of New York's skyline." — Ayn Rand
"You can design and create, and build the most wonderful place in the world. But it takes people to make the dream a reality." — Walt Disney
"It is not the beauty of a building you should look at; it is the construction of the foundation that will stand the test of time." — David Allan Coe
"Hey look Ma, I made it." — Panic! At The Disco, "Hey Look Ma, I Made It"
"All of the lights." — Kanye West, "All Of The Lights"
"Life is a journey with almost limitless possibilities." — Ken Poirot
"My favorite thing: Going where I've never been."
"A building is not just a place to be but a way to be." — Frank Lloyd Wright
"Let's find some beautiful place to get lost in."
"Cold nights, city lights."
"One's destination is never a place, but a new way of seeing things." — Henry Miller
"Say yes to new adventures."
"It's better to see something once than to hear about it a thousand times." — Asian Proverb
"Before it's your favorite place, it's a place you've never been."
"I'm in love with cities I've never been to and people I've never met." — Melody Truong
"When you just want to run away to the big city."
"There's so much beauty when your eyes lay lost in the city lights." — Motionless In White, "City Lights"
"Don't wait for the perfect moment. Take the moment and make it perfect." — Abraham Hicks
"Welcome to New York. It's been waiting for you." — Taylor Swift, "Welcome To New York."
"See the line where the sky meets the sea? It calls me." — Moana
"The skyline is etched in my veins. You can never put that out, no matter how hard it rains." — Macklemore, "The Town"
"The sky is the limit."
"You can leave the city but it will never leave you."
"Blown away by the Windy City."
"I've always been drawn to city skylines." — Dave Haywood
"I look out the window and I see the lights and the skyline and the people on the street rushing around looking for action, love, and the world's greatest chocolate chip cookie, and my heart does a little dance." — Nora Ephron
"In the twilight, it was a vision of power." — Upton Sinclair
"Big lights will inspire you." — Jay-Z, "Empire State of Mind"
This article was originally published on