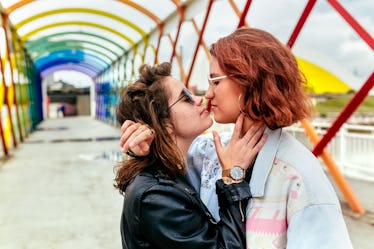 5 Reasons To Date A Virgo ASAP, Because They're Really All Heart
Aquarius may be the zodiac sign that feels the most misunderstood, but it's probably actually Virgos who are the least seen for who they really are. They have a reputation for being highly critical, fussy, and for overthinking everything, and while that's not entirely untrue (OK, fine, it's true), there is actually so much more to this sign once you delve a little deeper. There are so many reasons to date a Virgo, because (and, admittedly, I'm biased since I am one) Virgos make for fantastic partners.
Part of why Virgos are misunderstood is because they usually hide their softer side at first. Like Cancer, Virgo tends to be self-protective and opens up slowly. This can make them come off as cold, especially when paired with their critical nature, but it's actually a reflection of the tender heart they're protecting. This is also why Virgos have a reputation for being picky about their partners. They are cautious about who they share their vulnerability with, so they hold that side back until they're confident that the person they're dating is the one. Sure, that's a tough bar to get over, but once you do and you really get to know a Virgo, you realize just how worth the wait they are. Here's why you want to date a Virgo ASAP.