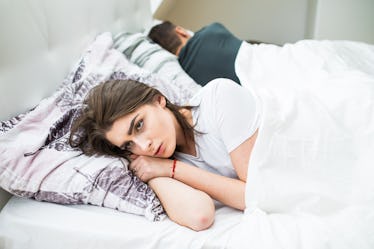 These 4 Zodiac Signs Are The Least Sexually Compatible With Virgo
I'm not going to say that sexual compatibility is the most important part of a relationship, but for some couples, it can be very important. It's also something that you probably won't even realize is missing until you give it the old college try. But what if you didn't have to go all the way to know if your odds of connecting sexually were high? Consider astrological compatibility. When it comes to the zodiac sign Virgo, infamous for its pickiness, sexual compatibility is key. Knowing the zodiac signs least sexually compatible with Virgo, and why each of these pairings struggle, can be helpful in making your relationship with a Virgo really thrive.
While astrology is not destiny, it can offer you some insight into what potential issues you and your partner might face. In some cases, and depending on the people themselves, the disconnect might be too wide and the compatibility might just not be there. But sometimes, if the chemistry is right in all the ways that matter, some bedroom stumbling blocks can be overcome, but only if you know what the issue is.
To understand why Virgo sometimes has trouble connecting with other signs in the bedroom, it's important to understand what it is that they need. Virgo is an earth sign that takes a very grounded view to everything, including sex. As a result, they need security and comfort to feel safe fully unleashing their sexual side. This is also a shy and conservative sign that will shut down when they feel pressured, so they need a sign who is both understanding and patient. The good news is, Virgo is worth the wait. With all that in mind, here are the signs that Virgo will likely have the hardest time connecting with sexually.