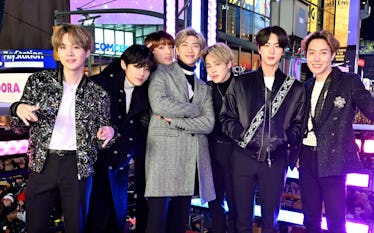 Here Are The Songs Each BTS Member Helped Produce On 'MOTS: 7'
Jeff Neira/Walt Disney Television/Getty Images
BTS is the real deal. Not only do they sing, rap, and dance, but they also produce and write many of their own songs. It seems that with each album the group releases, BTS only gets more involved in the technical side of their music, and fans admire their drive and dedication so much. BTS just dropped a new album on Feb. 21, and fans are searching the credits to see how many songs BTS helped produce on Map Of The Soul: 7.
BTS announced their comeback on Jan. 7, 2020 and then shared a few details about it afterward, like how it would come with a bunch of goodies for their BTS ARMY to enjoy. Fans loved the idea of a photo book and lyric book, as well as a BTS photo card, postcard, sticker, and coloring paper, but one item fans looked forward to the most was the album's credits. They wanted to see if the BTS members helped write or produce any songs.
In April 2019, BTS released Map of the Soul: Persona, and at least one member contributed in either writing or producing each of the songs. Most notably, RM, J-Hope, and Suga helped produce most of MOTS: P, with Jungkook lending a hand with a few tracks as well.
On Feb. 21, BTS' Map of the Soul: 7 arrived, and the BTS members once again contributed to many songs on the album.
The album has 20 tracks, including five previously released on MOTS: Persona. Fans are already familiar with the five songs' credits, but as for the remaining 15 tracks, fans will be happy to see BTS' lengthy list of contributions.
Check them out below.
"Interlude: Shadow"
"Interlude: Shadow" is Suga's MOTS: 7 solo song, so, of course, he had a hand in the songwriting process, as well as RM.
"Black Swan"
"Black Swan" was BTS' first single off MOTS: 7, and it was originally released in January. RM helped compose this song, too.
"My Time"
"My Time" is Jungkook's solo track, and it seems he took inspiration from his own experiences to write it, along with RM and other talented composers.
"Louder Than Bombs"
BTS' rap line, which consists of RM, Suga, and J-Hope, played a key role in writing "Louder Than Bombs." The trio also received songwriting help from Troye Sivan.
"ON"
As for BTS' MOTS: 7 lead single, "ON," the entire rap line once again got writing credits.
"UGH!"
RM, Suga, and J-Hope's "UGH!" is all about expressing feelings of anger. The song stands out for its hip hop sound, and all three members contributed to this song, too.
"00:00 (Zero O'Clock)"
"00:00 (Zero O'Clock)" is performed by BTS' vocal line — Jimin, Jin, V, and Jungkook — but surprisingly, RM was the only member to help write the song.
"Inner Child"
According to a press release by Big Hit Entertainment, V's solo song "Inner Child" is about a personal experience. Obviously, V wrote the song, along with some help from RM and other composers.
"Friends"
"Friends" is all about V and Jimin's tight bond. It's a sweet song performed by the duo, and its specific references about the pair's friendship seem to come from Jimin, who was the only BTS member to have contributed to the song.
"Moon"
Jin's solo song "Moon" is dedicated to the BTS ARMY. Jin wrote the song based on his personal feelings toward fans, and received help from RM.
"Respect"
"Respect" is Suga and RM's sub-unit song, so it's no surprise both members composed the song.
"We Are Bulletproof: The Eternal"
"We Are Bulletproof: The Eternal" is a callback to BTS' 2013 song "We Are Bulletproof Pt. 2." In this track, RM, Suga, and J-Hope write from personal experience about the group's long journey together.
"Outro: Ego"
J-Hope's solo song "Outro: Ego" is a fan-favorite track due to its uplifting lyrics and fun beat. J-Hope is the only BTS member listed in the songwriting credits.
"ON (Feat. Sia)"
Similar to the original version, "ON" featuring Sia lists all three rapline members as contributors.
ARMYs, there you have it. All seven BTS members contributed greatly to the the technical side of MOTS: 7. Since BTS worked so hard, it's no wonder why the album is resonating with so many fans worldwide.