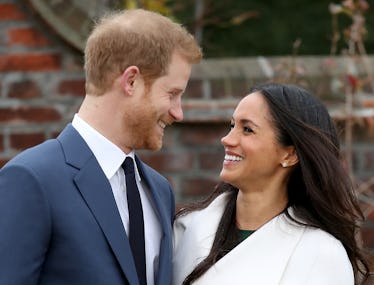 Here's The Complete Timeline Of Prince Harry & Meghan Markle's Relationship
Chris Jackson/Getty Images Entertainment/Getty Images
I don't know about you, but to me, it feels like just 20 minutes ago, everyone was freaking out about Meghan Markle and Prince Harry MAYBE having matching friendship bracelets. And now, suddenly, they're engaged, she's quitting Suits, and she's moving to London to live with Harry. Honestly, Prince Harry and Meghan Markle's relationship timeline perplexes me. They've been pretty private for the most part, so I haven't gotten to develop the intimate relationship I have with most other celebrity couples' relationships. Yes, I'm happy for them. And yes, the fact that Meghan is a 36-year-old, divorced, activist, American woman is freaking awesome, but I WANT TO KNOW MORE. And I have a feeling you do, too.
So, to help us all get a better picture of what Harry and Meghan's relationship has been like before the now-famous friendship bracelets and before the now-EXTREMELY-famous engagement, I have put together a comprehensive timeline of their relationship milestones for you to refer back to next time you're feeling confused about how this couple you SWEAR just met four minutes ago is now engaged. Check it all out for yourself below.
July 2016: The two are introduced by a mutual friend.
Meghan and Harry first met in July of last year when they were introduced by a "mutual friend." Now, I know we're all thinking the same thing: WHO is this mutual friend, and does he have any other celeb pals he can set me up with? According to PEOPLE magazine, the friend is businessman Markus Anderson (pictured above at a wedding with Markle).
Oct. 2016: Meghan posts an Instagram that raises suspicions.
Things really started heating up when Meghan posted the above selfie on her Instagram, with the caption,
#TBT to my solo trip to @sfhmembers #treatyourself #UK #sohohouse #farmhouse
She may have claimed it was a "solo trip," but people weren't really buying it. Why? Because of that blue bracelet on her wrist — a blue bracelet that Prince Harry also stepped out in.
Coincidence? I think not.
Nov. 8, 2016: Harry confirms their relationship and condemns the press' treatment of Meghan.
It seems after the bracelet thing, the press took Harry and Meghan's potential relationship and ran with it. Meghan went to being a fairly famous TV star to a world-renowned mega star overnight, and unfortunately, not all of the press surrounding her was positive.
On Nov. 8, 2016, in an unprecedented official memo from Kensington Palace, Prince Harry confirmed his relationship with Markle, while also calling out the press and the public for their sexist and racist treatment of her.
Nov. 27, 2016: Prince William publicly supports their relationship.
Prince Harry's public statement prompted rumors that his brother, Prince William, did not support his decision. In response to these rumors, Prince William gave his own statement to The Telegraph, which read, "The Duke of Cambridge absolutely understands the situation concerning privacy and supports the need for Prince Harry to support those closest to him."
Dec. 2016: The Prime Minister of Antigua makes Harry squirm about his relationship with Meghan.
During a trip to the Caribbean, the prime minister of Antigua may have slightly embarrassed Prince Harry when he publicly suggested the two (who weren't even engaged yet) take their honeymoon to Antigua, according to PEOPLE. In his speech, the prime minister announced, "I am told that there may be a new princess and I just want to say that should you make the decision to honeymoon — then Antigua and Barbuda want to welcome you."
Dec. 2016: Harry and Meghan are spotted Christmas tree shopping.
Meghan spent the week before Christmas in 2016 visiting Harry in London, where the two reportedly went Christmas tree shopping, according to PEOPLE. While on this trip, paparazzi managed to snap the first photo of the couple out and about together.
Jan. 2017: The couple reportedly checks out the Northern Lights together.
In January, the couple reportedly took a super romantic vacation to Norway where they watched the Northern Lights, according to E! News.
Jan. 2017: Meghan meets Kate Middleton and Princess Charlotte.
In Jan. 2017, the couple took a step toward the serious side when Harry reportedly introduced Meghan to his sister-in-law, Kate Middleton, and his niece, Princess Charlotte, according to The Sun.
May 6, 2017: Meghan cheers on her bae at a polo match.
The two sort of had a public outing together when Meghan was spotted cheering Harry on as he played in the Audi Polo Challenge at Coworth Park Polo Club in Ascot, England, PEOPLE reported. The two were even spotted kissing — or at least hugging — goodbye by her car.
Feb. 4, 2017: The two are seen hanging out together in London.
In early February, Prince Harry and Meghan were photographed while enjoying a date night in London. They were out and about around the town after enjoying dinner at Soho House, according to PEOPLE.
March 2, 2017: Meghan is Harry's plus-one to his friend's wedding.
When Harry's good friend Tom Inskip got married to Laura Hughes-Young in Jamaica, Harry brought Meghan to the wedding as his plus-one, Pop Sugar reported. Sources also claimed to PEOPLE that Harry made sure he was introducing the actress to all of his friends, and, according to one source, he even "did a little dance" for her.
March 17, 2017: Rumors start swirling about Meghan quitting Suits to be with Harry.
Mid-way through this past March, rumors and reports started swirling around about Meghan potentially leaving her show, Suits, after seven seasons to focus on her relationship with Harry, according E! News.
April 16, 2017: Harry ditches his family to spend Easter with Meghan in Toronto.
In April 2017, Harry said nah to another Easter at the palace with his family and, instead, was spotted visiting Markle at her place in Toronto, ABC News reported.
May 20, 2017: Harry brings Meghan as his date to Pippa Middleton's wedding.
PEOPLE reported that, although Meghan didn't attend the actual church ceremony, sources claimed Harry did bring Meghan as his date to Pippa Middleton's wedding reception later that day.
Aug. 2017: Harry and Meghan take a trip to Africa for Meghan's birthday.
In celebration of Meghan's 36th birthday, the two packed up and headed to Botswana, Africa, for a three-week-long getaway, according to The Daily Mail.
Sep. 5, 2017: Meghan speaks publicly about their relationship for the first time.
For the first time since meeting Prince Harry, Meghan spoke publicly about her relationship with the prince in an interview with Vanity Fair. Among other things, Meghan said, "We're two people who are really happy and in love."
Sep. 23, 2017: Meghan and Harry attend the opening day of Toronto's Invictus Games separately.
While Harry and Meghan were both present at the opening day of Toronto's Invictus Games, they didn't sit together apparently. PEOPLE reported that Harry was seated with Melania Trump, while Meghan sat with the mutual friend who reportedly introduced Harry and Meghan, Markus Anderson.
Sep. 25, 2017: They make their first public appearance together.
A couple days after that opening day at the Invictus Games, the two made their first public appearance together — meaning an ~official~ one, where they actually sat next to each other — at the wheelchair tennis match of the Invictus Games, according to PEOPLE. Just look how in love they seem!
Sep. 30, 2017: Harry gets quality time with Meghan's mom.
During the closing ceremonies of the Invictus Games, Harry, Meghan, and her mom, Doria Ragland, all got to hang out while watching the ceremony from a private box that they shared, according to PEOPLE. The presence of Meghan's mom didn't stop the couple from canoodling, as they were definitely spotted kissing.
Oct. 2017: Meghan reportedly meets Queen Elizabeth.
Shortly after the Invictus Games, Harry reportedly introduced Meghan to his grandma, AKA Queen Elizabeth. NBD. The Daily Mail reported the two met with Queen Elizabeth for tea.
Nov. 27, 2017: Prince Harry and Meghan publicly announce their engagement!
On Nov. 27, 2017, the two publicly announced their engagement in a super official statement from Clarence House. According to the statement, the wedding is going to happen pretty soon — Spring 2018, to be exact.
As you can read in the announcement, the two actually were engaged earlier this month, but chose to publicly announce it later.
Here's to following more updates on Harry and Meghan's relationship religiously until the wedding!
Check out the entire Gen Why series and other videos on Facebook and the Bustle app across Apple TV, Roku, and Amazon Fire TV.
Check out the "Best of Elite Daily" stream in the Bustle App for more stories just like this!