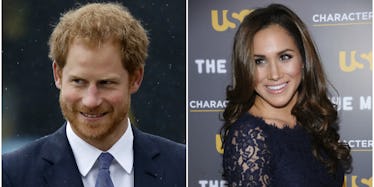 Prince Harry's Possible GF Dropped A Major Hint On Insta That They're Dating
REUTERS
I don't know who to be more jealous of: Prince Harry, for dating the absolute smoke show that is Meghan Markle, or Meghan Markle, for hooking up with royalty.
The 35-year-old "Suits" actress has been linked to the prince for some time, but the romance has never been confirmed.
However, she may have given away more than she bargained for when she posted an innocent Instagram snap of herself.
See that? Look at her wrist. She's wearing a bracelet that's pretty much identical to Prince Harry's.
Meghan took the snap while enjoying a vacation at Soho Farmhouse in Oxfordshire, England. She captioned the photo,
Throw back Thursday to my solo trip.
Just how "SOLO" was this trip, hmmm?
Look at the evidence:
It's too similar to ignore.
A source told Express Harry is "besotted" with Meghan after meeting her in Toronto while he was promoting his Invictus Games event earlier this year.
The source said,
He's in a very relaxed period of his life and Meghan has come along at the right time. They are taking each week as it comes and just enjoying each other's company but it's fair to say that they love seeing each other and there's a definite chemistry between them. Harry has been desperate to keep the relationship quiet because he doesn't want to scare Meghan off. He knows things will change when their romance is public knowledge but he also knows he can't keep it a secret for long. It's too early to say if the relationship will lead to anything long-term but who knows? At the moment they are just taking it a step at a time and seeing how things develop.
Meghan got married to producer Trevor Engelson in 2011, but their marriage was short-lived, and the couple split just two years later.
Make it official, Harry. DO IT FOR BRITAIN.