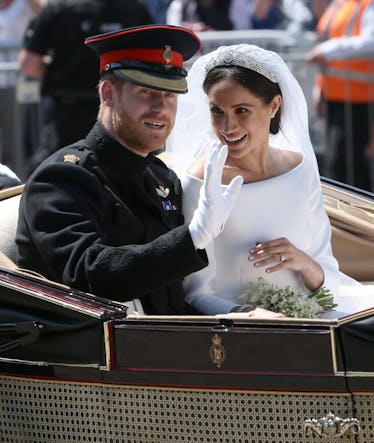 Harry & Meghan's Wedding Was 5th Most Watched & You Won't Believe Which Royals Beat Them
WPA Pool/Getty Images Entertainment/Getty Images
By now, you've at least seen the part of the royal wedding when Prince Harry, Duke of Sussex, lifted the veil off of Meghan Markle, Duchess of Sussex's head and said "Hi." If you haven't, I very highly recommend YouTubing that. It seems like the entire world tuned in to catch the famous "I Dos" and make unfair judgments on Meghan's wedding dress. (The correct answer is: It was gorgeous. Stunning. A triumph.) It probably feels like the whole planet was watching because basically everyone was. However, Prince Harry and Meghan Markle's royal wedding ratings were eclipsed by not one but two other royal couples that may shock you.
In first place obviously comes Charles and Diana, Prince and Princess of Wales' wedding in 1981, which pulled in a whopping 28.4 million viewers across the U.K., according to the Joint Industry Committee for Television Audience Research (JICTAR).
You may have thought Prince William and Kate Middleton, Duke and Duchess of Cambridge would come in at a close second, but you're wrong. According to new figures published by the Broadcasters Audience Research Board (BARB), the royal wedding that comes in second place is that of Prince Charles' younger brother Prince Andrew and Sarah Ferguson, the Duke and Duchess of York. They brought in 18.7 million viewers across the U.K.
Then comes Prince William and Kate Middleton in third place, who got married in 2011 and snagged 17.6 million viewers.
But shockingly enough, the spot you may have thought Harry and Meghan must have snagged on this elite ranking of royal weddings — fourth — is taken by yet another surprising couple: Prince Harry's uncle Prince Edward and Sophie, the Earl and Countess of Wessex. They brought in a combined 14.8 million viewers across the U.K.
That lands Harry and Meghan in fifth-place, tying the knot to the tune of 11.5 million viewers on Saturday, May 19, 2018. Not bad considering the streaming options these days are a-plenty. It should be noted, these ratings only include those who watched on UK TV networks ITV and BBC1, which means that anyone who streamed the wedding online or decided to sleep in and catch the replay on YouTube weren't counted. (Guilty.) Not to mention, William and Kate surely got an extra boost in ratings thanks to their wedding day being deemed a bank holiday.
All things considered, Meghan and Harry's fifth-place rank ain't too shabby.
The truth is, despite the endless hours I've spent pouring over the royal family on the Internet, I also can't answer the one burning question many of us have: Why do we all care so much? It might be because "royalty" sounds like a thing from the past or only made up for fairytales. The idea of becoming an actual prince or princess is something so many of us have dreamed about, and watching Duchess Meghan somehow successfully transition from working on a network American TV series to hanging out with the Queen makes it all feel a little more accessible.
While Meghan and Harry's numbers aren't the highest England has seen, they are two of the most popular people worldwide. Fans are enjoying countless reports highlighting how special and unique their ceremony was in comparison to the other royal weddings and all the awesome ways they broke tradition. For example, Harry's father Prince Charles ended up walking Meghan down the aisle. The couple also incorporated some awesome American songs in their ceremony, had a unique cake flavor (lemon and elderflower), and reportedly Meghan gave the first speech at the reception.
Royalty expert Katie Nicholl told Entertainment Tonight,
The first person to get up and speak was Meghan. This was a real breach of tradition. Usually, the bride doesn't talk. It is, of course, the father of the bride, but seeing there was no Thomas Markle, Meghan decided that she would speak. She is an outspoken, self-proclaimed feminist and I was told she wanted to have the chance to say in person a very big thank you to the royal family, which is exactly what she did.
That's the kind of messaging I can definitely get behind and will always tune in for.
Check out the entire Gen Why series and other videos on Facebook and the Bustle app across Apple TV, Roku, and Amazon Fire TV.