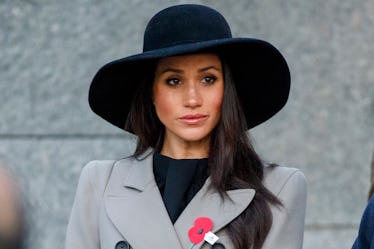 Meghan Markle Revealed Who Will Walk Her Down The Aisle & It's SO Unexpected
WPA Pool/Getty Images Entertainment/Getty Images
As you probably know, it's a longstanding tradition for the bride's father to walk her down the isle at her own wedding. So I really can't imagine how Meghan Markle felt about her dad not being able to come to hers on Saturday, May 19. And as many were wondering who would end up taking on her father's ceremonial duties, it turns out that Prince Charles will walk Meghan Markle down the aisle during the royal wedding.
After a week of wondering who would end up walking Markle down the isle at the royal wedding, Kensington Palace updated royal fans via Twitter with a statement. They announced that Meghan ended up choosing Prince Charles to perform the quintessential father-of-the-bride duty of walking her down the aisle at her wedding in lieu of her father. And as it turns out, the heir to the British throne is more than willing to do so. In a tweet, Kensington Palace says that Charles, is "pleased to be able to welcome Ms. Markle to The Royal Family in this way," which is honestly so sweet. I'm sure Meghan is so relieved that she found someone to take on the task, and that Prince Charles is excited to do it.
Prior to Kensington Palace's announcement, there were several rumors regarding who would walk Meghan Markle down the aisle on her wedding day. Some were wondering if Patrick J. Adams, her love interest on her hit TV show, Suits, would take her father's place, and others were betting on the fact that her mom would step in and accompany her. There were also a few rumors that she would walk herself down the aisle, or that she and Prince Harry would potentially be walking together, but let's be real: The fact that the father-of-the-groom is doing it definitely makes the most sense, right?
In case you didn't already know, Meghan's father isn't attending the wedding because he had to get heart surgery on Wednesday, May 16, just three days before the royal wedding. And while it was obviously devastating that he wouldn't be there, it's probably for the best. Mr. Markle had recently suffered from a heart attack earlier in the month, and even though he thought he would be able to make it to the wedding afterwards, he isn't able to due to the recovery process.
Markle is obviously upset that her father wouldn't be attending, but she wants him to take it easy and to do what's best for his health. Markle's statement about her father's absence is so sad, but it's clear she's come to terms with his absence.
Kensington Palace tweeted her statement, below:
Sadly, my father will not be attending our wedding. I have always cared for my father and hope he can be given the space he needs to focus on his health. I would like to thank everyone who has offered generous messages of support," the statement continues. "Please know how much Harry and I look forward to sharing our special with you on Saturday.
OK, Meghan's statement is honestly so devastating, but it's evident that she's come to terms with the fact that her father won't be attending her wedding. It'll be a bittersweet time for her, but she understandably knows what's best for him. However, I know for a fact that Prince Charles will nail his wedding day duty (in terms of walking Meghan down the aisle), and it's beyond heartwarming that he's pleased to do so. In the end, I'm just glad she found someone who was more than willing to do it... and that it wasn't her husband from Suits, TBH.