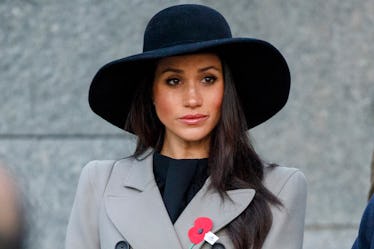 Meghan Markle's Dad Is Reportedly Getting Heart Surgery, Which Means No Royal Wedding
WPA Pool/Getty Images Entertainment/Getty Images
Things are not looking good for Meghan Markle's dad, Thomas Markle. The 70-year-old, who recently suffered a heart attack, is still grappling with serious health issues. And now, according to TMZ, Meghan Markle's dad is getting heart surgery and won't be able to attend the royal wedding.
Markle's dad will be heading into major surgery on Wednesday, May 16, so surgeons can tend to his heart condition. Markle told TMZ that his doctors will clear any blockages and implant a stent:
They doctors will go in and clear blockage, repair damage and put a stent where it is needed.
Elite Daily has reached out to Kensington Palace regarding this report, but has not heard back at the time of this publication.
This is an unfortunate turn of events for Meghan and her family, especially when it's just days before the big wedding. The Markle patriarch, who resides in Mexico, reportedly suffered a heart attack last week, which led to a lengthy hospitalization.
Determined to attend his daughter's wedding ceremony and walk her down the aisle, Thomas checked himself out of the hospital with the intention of heading out to the UK. Kensington Palace had previously announced on May 4 that Thomas would be on hand for the nuptials:
Ms. Markle is delighted to have her parents by her side on this important and happy occasion. Prince Harry and Ms. Markle are very much looking forward to welcoming Ms. Markle's parents to Windsor for the wedding. Mr. Thomas Markle and Ms. Doria Ragland will be arriving in the UK in the week of the wedding, allowing time for Prince Harry's family, including The Queen, The Duke of Edinburgh, The Prince of Wales, The Duchess of Cornwall, and The Duke and Duchess of Cambridge, to spend time with them before the big day.
Given all the excitement surrounding the Royal wedding, it's understandable that Thomas would try his best to go. But that decision was soon turned around by Thomas himself, who told TMZ he couldn't go to the wedding after all.
In a statement released Monday, May 14, Kensington Palace asked for respect and understanding at this time:
This is a deeply personal moment for Ms. Markle in the days before her wedding. She and Prince Harry ask again for understanding and respect to be extended to Mr. Markle in this difficult situation.
Clearly, this has been a difficult situation for Meghan and the rest of the Markle family. No one wants to hear that their parent is in poor health, especially just days before such an important event.
And it seems that Thomas really felt that, as he later told TMZ that he desperately wanted to be there for Meghan:
I hate the idea of missing one of the greatest moments in history and walking my daughter down the aisle.
But now it seems the opportunity for Thomas to attend his daughter's wedding is lost due to his heart condition. This unfortunate news comes amid a bit of scandal for the Markles. On Saturday, May 12, Thomas was spotted in a video staging paparazzi photos. The video surfaced via The Daily Mail, which undoubtedly caused some serious embarrassment for the Royal family. And for Meghan, too.
How sad that her big day has to be clouded by family issues and health problems. This should be a happy time for her, so hopefully she can try to look past it and enjoy exchanging vows with Prince Harry.
The wedding is set to take place at St. George's Chapel at Windsor Castle in England on Saturday, May 19. Meghan's mother will be in attendance that day.