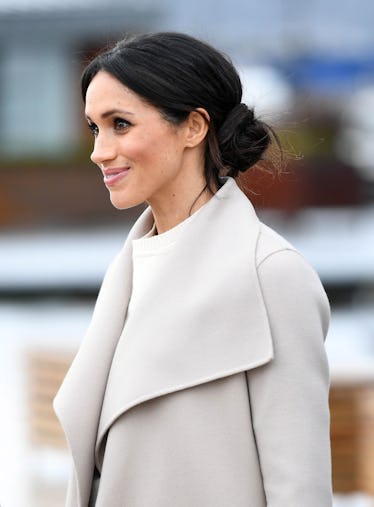 Meghan Markle Is Breaking Royal Wedding Tradition In So Many Ways & It's Refreshing
Pool/Getty Images Entertainment/Getty Images
When rumors started swirling that Meghan Markle and Prince Harry were dating in October 2016, the internet lost it. How often do we get to see American representation (especially by a woman of color!) when it comes to the royal family? Not often, if ever! Just being who she is is one of the ways Meghan Markle is breaking royal wedding tradition, and on her wedding day, she broke the mold even further.
She walked down the aisle partly on her own, and partly with her father-in-law Prince Charles, instead of with her own father. She and Harry held hands throughout the ceremony. She opted to feature a sermon by The Most Reverend Michael Curry, the presiding bishop of the Episcopal Church (and the first African-American to hold that position). She also had a choir composed primarily of people of color. None of these are typical choices for a British royal bride.
Below, even more ways Meghan's wedding and marriage to Prince Harry is so different from anything we've ever seen before. It's 2018, y'all! Progress, at last.