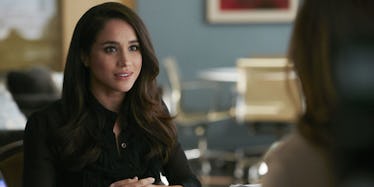 Meghan Markle Is Leaving 'Suits' Soon & We Finally Have Details On Her Character's Exit
USA Network
Meghan Markle might have spent the last few months touring the UK with her fiancé Prince Harry, but in a weird blast to the past, her TV show Suits returned for the second half of its seventh season on March 28. Markle and her co-star Patrick J. Adams have officially already left the series, but their characters will remain on the show until the end of the season. It is definitely bizarre to watch this alternative version of Markle when we now know so much more about her, but I'm not complaining about getting some more time with Rachel and Mike before they're written out of Suits. With a two-hour finale airing on April 25, how will Meghan Markle leave Suits?
Speaking to TVLine, Suits executive producer and creator Aaron Korsh teased how the engaged Rachel and Mike will depart the series:
We lay the groundwork in a subtle way, and then we also have some actual logistical things that happen within the show. But if we hadn't made the announcement that they were leaving, I do not think you would have seen them leaving coming... in Season 7, they're finally getting down to, 'Listen, we put this wedding off. You're now out of prison. Are we going to focus on it or not?' And the front half of Season 7 was them saying, 'Let's put it to the side a little bit,' and then the back half of Season 7 is them saying, 'Let's put it on the front burner a little bit.' And in putting it on the front burner, I wouldn't say it forces you, but when you're getting married, you tend to think about what you want out of life. Where do you want to spend it? How do you want to lead it? There's a particular episode where that comes to the fore with them, and that plays into what's going on with Mike, professionally — and collectively, they make this decision.
So, essentially, it sounds like Rachel and Mike are leaving the law firm to retreat into their own blissfully married bubble.
In the return episode of Season 7, Harvey and Donna's romantic drama was the main focus, but we still got a glimpse of how Markle and Adams' characters were progressing. Rachel and Mike decided to make their wedding a priority, suggesting that a decision about their future as a couple will come sooner rather than later. Although the first half of the season wrapped before Markle's engagement to Prince Harry was announced, Korsh spilled in an interview with Radio 4 that he and the other creative staff took a chance on her future with Harry about a year ago, deciding to gradually work the character of Rachel out of the show:
I sort of had a decision to make because I didn't want to intrude and ask her, 'Hey, what's going on? What are you going to do?' So…collectively the writers, we decided to take a gamble that these two people are in love and it's going to work out. What we decided to do was as the season progresses say, 'Look, I would rather have good things happen to Meghan in her life'—which would likely mean her leaving the show. So let's plan on that and it's much easier to undo that, if it came to it, than to just plan on her staying forever and then finding out she's going to go.
As for Adams, he officially announced his series departure in January 2018, citing a desire to spend more time with his wife as a key reason why. Speaking to The Hollywood Reporter, he explained:
As we were starting to talk about renegotiating contracts [for season eight and beyond], I took a moment. Everybody was going full steam ahead and I stopped and said, "We need to think about this because this is more of my time and more of my life — and what's the story left to tell?"... I thought we'd come so far and now Mike is going to work to be a lawyer and he's engaged to the woman of his dreams and he's got the means and opportunity to do whatever he can imagine. I had this voice in my head that said that we've told his story and if he hangs out longer, Mike is just going to be another lawyer on television. That didn't feel right for him. It didn't feel right for where I was at in my life, either.
If you're hoping for a sneaky nod to Markle's royal future, you're out of luck. Adams told THR that Korsh purposely avoided any connections between real life and the world of Suits. As the end of Season 7 nears, I don't think we'd need that little inside joke to entertain us - after all, Mike and Rachel's last few scenes are bound to be achingly sweet.
Suits returns on Wednesday, April 4, at 9 p.m. ET on USA. Time to concoct a perfect departure theory!