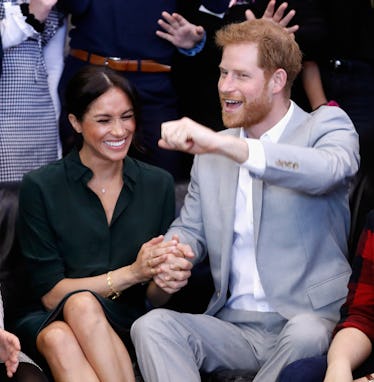 Prince Harry's Reaction To Meghan Markle's Pregnancy Was So Cute, It'll Melt Your Heart
Chris Jackson/Getty Images Entertainment/Getty Images
I can't quit Meghan Markle and Prince Harry. The Duke and Duchess of Sussex are the actual king and queen of good news this year, and fans are thrilled to hear they're expecting their first baby together. *Trumpet sounds!* The two are currently on their first tour together as husband and wife visiting Australia, New Zealand, Fiji, and Tonga. While in Australia, Prince Harry officially spoke about their pregnancy for the first time and the video is so sweet. Prince Harry's reaction to Meghan Markle's pregnancy will have you swooning (as if you ever stopped since their engagement announcement in November 2017).
Royal contributor Omid Scobie shared a video of Prince Harry giving a speech at an event in Australia on Twitter in which he spoke at length about how amazing it is down under and all the great sights he and Meghan were enjoying during their visit. After a seemingly never-ending two minutes or so, Prince Harry finally addressed what everyone was waiting for. At the end of his speech, Prince Harry said, "We're both absolutely delighted to be here and to see you serving beer and tea at an afternoon reception in true Aussie style. We also genuinely couldn't think of a better place to announce, uh, the upcoming baby, be it a boy or girl, so thank you very much."
The words were nice but his delivery was so much sweeter. He was basically all business until it was time for the baby talk. Then, he turned into a mushy, gushy father-to-be. He also directed his words to Meghan who was standing in the audience smiling at him.
It's the best, take a look.
Of course, the official pregnancy announcement was made on Monday, Oct. 15 by Kensington Palace. The palace tweeted a joyful picture of the Duke and Duchess smiling next to each other with the statement, "Their Royal Highnesses The Duke and Duchess of Sussex are very pleased to announce that The Duchess of Sussex is expecting a baby in the Spring of 2019." Shortly after, Kensington Palace followed up with a second tweet that said:
Their Royal Highnesses have appreciated all of the support they have received from people around the world since their wedding in May and are delighted to be able to share this happy news with the public.
Meghan is reportedly right around the 12-week mark in her pregnancy, meaning her little one could share a birthday with his/her cousin, Prince Louis, born April 23, 2018. (This is 100 percent my own theory I came up with using my brain and math skills, but wouldn't that be cool?)
While the rest of the world begins royal baby preparations, Meghan and Harry will continue on to the additional three countries on their tour itinerary. Originally, folks were worried about the Zika virus concerns in Figi and Tonga, but according to reports Meghan and Harry sought professional medical advice before their trip. It makes sense for the two newlyweds to soak up as much travel as they can before the little one arrives!
What an exciting time to be me — I mean them — I mean me!