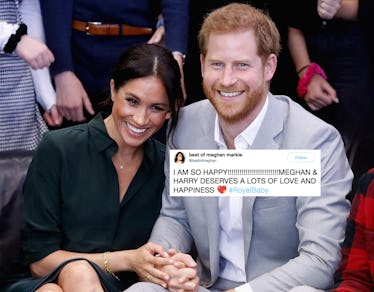 Twitter Is Having A Royal Celebration Over Meghan & Harry's Pregnancy News
Chris Jackson/Getty Images Entertainment/Getty Images/Twitter
Happy freaking Monday, everyone! Meghan Markle is pregnant!! Kensington Palace announced in a tweet on Oct. 15 that the Duke and Duchess of Sussex are expecting their first child in Spring 2019, and the tweets about Meghan Markle's pregnancy are that #goodcontent we need to see today. I'm talking that joyous content, people!! Also, wow. These two waste no time.
The happy news was announced by Kensington Palace on Monday, Oct. 15, in a tweet that said, "Their Royal Highnesses The Duke and Duchess of Sussex are very pleased to announce that The Duchess of Sussex is expecting a baby in the Spring of 2019." A follow-up tweet said, "Their Royal Highnesses have appreciated all of the support they have received from people around the world since their wedding in May and are delighted to be able to share this happy news with the public."
According to DailyMail.com, Harry and Meghan revealed their happy news to Queen Elizabeth at Princess Eugenie and Jack Brooksbank's wedding on Friday, Oct. 12. The couple is now in Australia for the beginning of their previously scheduled tour that will take them through Australia, New Zealand, Fiji, and Tonga.
Look at the joy in their faces! That's baby bliss right there.
And the internet is soaking in all the joy it can get these days, so these reactions are just everything.
What a time, fam. What a time.
Harry and Meghan were all smiles at Princess Eugenie and Jack Brooksbank's wedding on Oct. 12 at Windsor Castle, where they got married just five months ago. It was presumably the first time the couple returned to St. George's Chapel since they got married in May, so imagine how much joy they felt being able to return to their wedding location and tell their family they're having a baby! Ugggghhhhhh, I love this so much. I love them. I love babies. I love joy!! Obvi, it's making me rethink the context behind literally every photo of Harry and Meghan from the last few weeks.
Fashionable coat for a wedding, or coat concealing a baby bump?!
What are you telling Anne, Princess Royal, here?!
Look at them! They are glowing!
I know this photo of Harry cheering was most likely about something not baby related, but I'm choosing to reject that narrative and say that context is the most important here. They are joyful because of their exciting secret!!
Look at Meghan's face! She is literally grinning from ear to ear! Ugh. After a summer of BS that her father and half-siblings put her through, I'm so glad they get to move on from all of that unnecessary drama now and be happy about their baby bliss.
Let's look at some more tweets, shall we? Literally, everything else in the world is crap right now, people, so let's soak. In. This. Joy.
Honestly, I'd be cool with Harry and Meghan trying to make their kid the President of the United States. Please take us (the U.S.) back, England. We're kind of falling apart?? Lol?? Please help us??