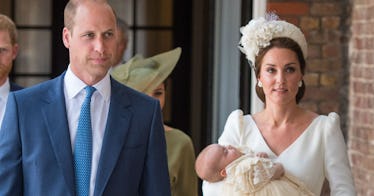 Prince Louis Made His First Official Appearance With The Royal Family At His Christening
WPA Pool/Getty Images Entertainment/Getty Images
It's been a little over two months since Prince Louis of Cambridge was born. But that's not stopping Prince William and Kate Middleton, Duke and Duchess of Cambridge, from showing him off to the world. While the little prince was snapped by photographers mere hours after his birth, his parents have waited until now to take him on an official royal outing. So, what was Prince William and Kate's first official appearance with Prince Louis all about? Well, it was his christening, which is honestly the most perfect first official outing with his parents ever.
At Prince Louis' christening, William and Kate arrived with all their kids in tow and they all looked overjoyed arriving at St James Palace in London.
For the christening, the royal kids were dressed to the nines. Prince George donned his usual crisp white short and princely black shorts, while Princess Charlotte wore the cutest, puffy white dress. But it was little Louis who stole the show! The youngest child of William and Kate was dressed in the traditional Royal Christening Gown that both her siblings wore at their christenings. According to The Sun, the gown has a pretty interesting history. It's a replica of the original Royal Christening Gown that was commissioned in 1841 by Queen Victoria for her firstborn, Princess Victoria. The publication reports that in her diary, she described it as: "A white Honiton point lace robe and mantle over white satin." The replica Prince Louis wore at his christening was made in 2008 and he's the sixth royal to be christened in it.
Of course, William and Kate were dressed beautifully as well. I mean, you can't have members of the royal family out and about without them looking incredible. It just wouldn't seem right.
Check out the whole family, including Prince Harry and Meghan Markle, Duke and Duchess of Sussex, arriving at the christening.
And here are some gorge pics of Kate being all smiley and joyful with Prince Louis in her arms:
As part of the day's festivities, the family enjoyed singing two hymns that William and Kate chose for the ceremony, according to People. They were "O Jesus, I Have Promised" and "Lord of All Hopefulness." Prince Louis' Godparents, Lucy Middleton and Guy Pelly, reportedly each did a reading as well.
All in all, it looked like a fun time for all. And, of course, the royal kids were giving the photogs on hand a run for their money. I'm sure lots of cute pictures of them will be flooding your timeline soon!
The family, and especially the kids, have had a busy year.
Prior to the christening, the family was on hand for Harry and Meghan's royal wedding back in May, where Prince George served as a page boy and Princess Charlotte was a bridesmaid.
As part of the wedding party (which consisted of a bunch of kids under age 10), George and Charlotte enjoyed lots of screen time during the broadcast of the wedding. They also got to pose for some incredible photos with Prince Harry and newly coined Duchess Meghan.
Here's a couple of photos of the kids on the big day:
Aw, too cute for words!
Just a month before the wedding, William and Kate welcomed little Louis, which was undoubtedly exciting for George and Charlotte. It was then that the world got its first glimpse at the new prince.
So, now he, too, can look forward to having his life photographed and documented at every turn. I'm sure his older siblings will teach him the ropes. They seem to be handling it so well already!
They're such a sweet family and, so far, the kids seem really well-adjusted to all the attention they receive. With any luck, Louis will have as big a personality as his older siblings do!