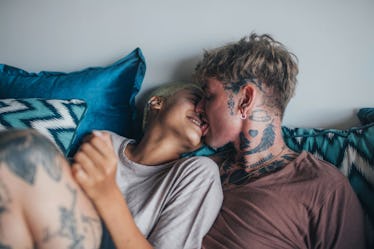 4 Zodiac Sign Pairings That Are Compatible For Sex, But Not Love
Sometimes, a hookup buddy can simply be someone to have fun sex with, and that's perfectly OK. Not every friend-with-benefits has to blossom into a full-fledged romantic relationship if that's not what either of you wants. TBH, when it comes to sexually compatible zodiac sign pairings, some of the most passionate duos just make excellent FWBs — and honestly, it can really be better that way. Yes, being f*ck buddies and nothing more with someone can be a tricky endeavor. The innate human craving for intimacy, and the risk of catching feelings or ruining the friendship always seems to be waiting in the wings to mess it all up. But if you and the other person both agree to keep things casual, then a FWB scenario can, in fact, have a happy ending.
The same goes for the below four zodiac pairings. If they can keep their relationships strictly sexual, they'll probably be met with success. The following eight star signs are matched up because each pair has sexual potential of astrological proportions, even thought they'd probably butt heads if they were in an actual romantic relationship.
Here are four zodiac pairings that are compatible for sex, not love. Read on and take notes.