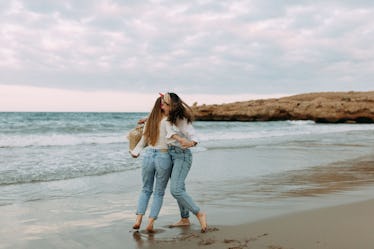 Experts Reveal The Biggest Problem With Being Friends With Benefits, & It Makes Sense
On the surface, finding yourself a friend with benefits can seem like a win-win for everyone. Neither one of you has to worry about heartbreak because, technically, you're "just friends," and you have someone you can hit up whenever you want to have a horizontal party. But too often, the problem with being friends with benefits is that the situation gets complicated when feelings get involved. Sure, you may have gone into the arrangement thinking you were just going to have some no-strings-attached sex, but nothing sucks quite like realizing you've developed feelings for someone, and they don't reciprocate.
Before you decide to dive into a friends with benefits situation, consider doing some serious introspection. "Make sure it's right for you," Pricilla Martinez, CEO of Regroop Online Life Coaching, tells Elite Daily. "The partner you choose should be on the same page as you around expectations. Do not choose this type of relationship because you are avoiding the risks that come with allowing yourself to really care about someone else, there are risks with all relationships." So, maybe don't hit up your BFF for a sex sesh just yet. I spoke to several relationship experts for their takes on the biggest issues that might arise from being FWB. Here's what they had to say.