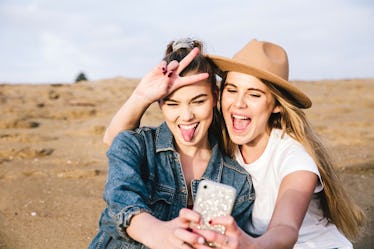 6 Zodiac Sign Pairings That Make Better Friends Than Lovers
Astrology can be a really useful tool when it comes to understanding ourselves and the people in our lives. It can give us insight into our personalities, behaviors, and underlying motivations. It can also be super helpful when it comes to identifying zodiac sign pairings compatible for love, as well as those with whom we're probably better off just keeping things friendly. The difference here is that friendship requires love and connection on a personal and intimate level, but romance needs the kind of compatibility that creates sexual chemistry, and that can motivate people to bring out the best in each other, in close quarters, for a long time. Romantic compatibility may be harder to find, but never underestimate how much love is shared in a friendship.
Because friendship is so intimate, the line between what makes for a platonic connection and a more sexual or romantic one can be a bit blurry, at least in theory. When you take into consideration what each sign needs to feel their most powerful, sexual self, the zodiac signs most likely to fall short of that become clear. However, that doesn't mean they won't share the heart connection that makes for a great friendship. With that in mind, here are the sign pairings that make better friends than lovers.