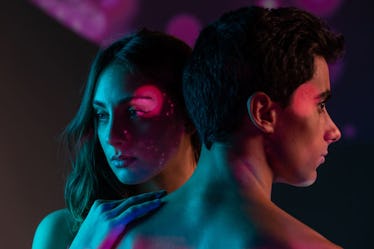 3 Sex Positions Geminis Need To Try ASAP For A Starry Night
Geminis are rather enigmatic signs. As air signs with an infamous "duality" to their personalities, they can be unpredictable and aloof. Though they do get a lot of bad press, this sun sign tends to be more misunderstood that anything else. Consider yourself lucky if a Gemini considers you an important person in your life, and watch your back if you're on a Gemini's sh*tlist. Either way, if a Gemini wants to impress you, it's likely you're about to be floored. There are some sex positions for Geminis that could be particularly mind-blowing. Geminis are familiar with their strengths and should definitely play to them.
Geminis are misunderstood beings for a lot of reasons. It's partly because they have a duality to their sign, meaning they can change and chameleon pretty easily based on their surroundings, who they're with, and what's expected of them. Geminis are loving people and perfectionists in a way. They aren't rule-bound perfectionists like Capricorns, but instead, they are perfectionists by their own strict standards for themselves. Geminis want to be the best at what they set their mind to or they don't want to attempt the task at all. To have some really hot Gemini sex, there should be an element of challenge and a chance to thrive in the spotlight for the Gemini in question. That way, they can feel like they will be appreciated for their effort to excel at the task at hand.
The following sex positions could be great for you to try if you're a Gemini because they give you a chance to play into your natural ability to "wow" others. They also have an element of pleasure to them, because Geminis never pass up the chance to have a great time. If you're intrigued about the positions that could play to a Gemini's strengths, check out the following positions.