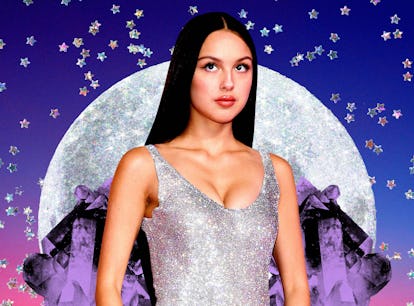 Olivia Rodrigo's Birth Chart Shows More Than "Spicy Pisces" Vibes
'Cause I know her star sign, I know her blood type, I've seen every movie she's been in...
Olivia Rodrigo has a lot of guts. Since the release of her 2021 debut album, Sour, the three-time Grammy winner has become famous for translating her complex teenage experiences into pop-punk bangers — an understandable achievement considering the "vampire" singer often refers to herself as a "spicy Pisces." After all, the Fish is known for its compassion, emotional depth, and artistry. But Rodrigo's birth chart is actually a lot more complex than even she may realize, making her Pisces zodiac sign not seem quite as ~spicy~.
In an August interview with Vogue, shortly before the release of her sophomore album, GUTS, the singer-songwriter, born Feb. 20, said, "I'm a Pisces to a T. I'm super emotional, I'm musical, and I love a swim" — all undeniable traits of the mutable water sign. However, Rodrigo's unapologetically honest lyrics and the rest of her natal chart paint a much more spirited story than just her sun sign alone.
Upon first glance, the "bad idea right?" crooner's astro chart appears pretty laid-back. She's a Pisces sun, Libra moon, Capricorn rising, making her a highly ambitious and creative lover girl. Rodrigo's "big three" practically give away that she was destined for stardom (something her grandfather discovered when she was born), but they don't point to any clues about her unflinchingly raw songwriting. It's only when you dig a little deeper into her placements — particularly her Mars sign — that you can finally find her self-dubbed spiciness.
TBH, Olivia Rodrigo's Rising Sign Is Actually Pretty Reserved
Funnily enough, the High School Musical: The Musical: The Series alum's Capricorn rising sign describes her as an incredibly rational, dependable individual; not at all fiery. Since the ruler of her chart is Saturn, she prioritizes hard work and a strong sense of self-discipline. In an interview with The Guardian, she even characterized herself as "strait-laced" and "super mature," though she also pointed out that she felt "super stunted" because of her upbringing.
Those with Capricorn rising tend to feel a stronger sense of duty in life than their peers, which can cause them to become overachievers. In "all-american b*tch", the pop star sings, "I know my age and I act like it," but according to her rising sign, Rodrigo appears to be wise beyond her years.
Her Mars Sign Is The Spiciest Of All
Although the former Disney Channel star may be laid-back on the surface, she does have one astrological placement that explains her unfiltered, transparent songwriting. Rodrigo has Mars — the planet of action, ambition, and pursuit — in the free-spirited sign of Sagittarius. This mutable fire sign is notorious for being brutally honest, while remaining unfazed about the potential repercussions, giving these individuals a "f*ck it" kind of attitude. (See? Spice.)
Rodrigo became a household name back in January 2021 when she released "drivers license," candidly recounting a relationship that went *sour* while newly licensed and driving past an ex's house. On the other hand, while the singer's now known for writing songs about her relationships, she's remained tight-lipped about the inspiration behind her records. This decision may be due to Rodrigo having her Mars in the 12th house of privacy, withdrawal, and self-undoing. Those with Mars in this particular house in their birth chart often struggle to outwardly address conflict or confrontation, and prefer to handle any feuds behind closed doors. When asked how the rumored love triangle between herself, Joshua Bassett, and Sabrina Carpenter back in 2021 was "handled," Rodrigo told Rolling Stone, "'Handled' isn't the right word, but it's just not something I like talking about publicly. I take all that stuff seriously, but it happens in [private]."
The singer's Mars placement may be subdued, but when it comes to her songwriting, she's notorious for not mincing any words. Who knows? The world may have never gotten an iconic line like, "Good for you, you're doing great out there without me, baby // Like a damn sociopath," if Rodrigo didn't have a little spice in her chart, thanks in large part, not to her Pisces sun, but to her Mars in Sagittarius.