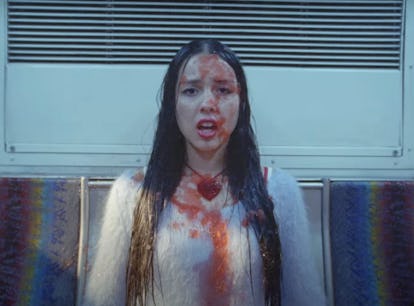 Olivia's "Bad Idea Right?" Video Is Full Of Teen Movie & TV References
In case you forgot, she's the ultimate Gleek.
YouTube
Olivia Rodrigo's "bad idea right?" is more than just an angsty howl about late-night hookup regrets, it's also an ode to some of the most iconic teen movies and TV shows. The music video is layered with subtle nods to '90s rom-com fashions and the meme-able camp of modern high-school dramas. Some are more obvious than others, so here are all the teen movie and TV show references in "bad idea right?" that you might have missed.
The video for Rodrigo's second GUTS single dropped like a flask of vodka into a punch bowl on Aug. 11. Over escalating guitars and even her own screaming at one point, the cool-but-chaotic video captures the blurry, high-energy recklessness of leaving a house party to hook up with an ex. It's basically the plot of so many great teen movies, so it's fitting that Rodrigo paid homage to some of her faves in the video. From style choices that harken back to the classic flicks of the '90s, to recreating scenes from her favorite shows of today, the music video is one giant love letter to teen dramedies. Check out all the clever referential details below.
1. Empire Records
Rodrigo's look in "bad idea right?" is straight out of an iconic '90s record store. The video's stylist, Danielle Goldberg, confirmed on Instagram that Liv Tyler's cropped sweater and skirt from Empire Records inspired Rodrigo's outfit in the music video. And that's pretty apparent when putting the looks side-by-side. Rodrigo's light-blue sweater is nearly an exact match to Tyler's; the only big change is that Goldberg updated the '90s plaid skirt to be a silver sequined skirt.
2. Jawbreaker
Several iconic teen movies have a scene where the popular girls gossip while doing their makeup, but the bathroom setting in Rodrigo's video is specifically reminiscent of 1999's Jawbreaker.
3. Can't Hardly Wait
Along with Empire Records, Goldberg also cited Can't Hardly Wait as a piece of inspiration for the video. You can definitely tell how the rowdy house party in "bad idea right?" is a direct descendent of Can't Hardly Wait's central house party, all the way down to Rodrigo recreating Jennifer Love Hewitt's entrance as recently dumped prom queen Amanda Beckett.
4. Glee
Rodrigo's deep fandom for the musical comedy Glee is not new information. She's previously sung about how she loves to rewatch the series in her 2021 single "deja vu." And she yet again went full Gleek in the "bad idea right?" video, which includes a scene in which a red slushie is splashed all over her. The moment is an obvious allusion to the unpopular glee club constantly getting slushies thrown in their face on Glee.
5. Euphoria
Rodrigo also seemed to bring a Euphoria meme to life towards the end of her video. The forceful way she knocks on her ex's door is a practically perfect recreation of how Maddy banged on the bathroom door in the Euphoria Season 2 premiere. It might seem like a small thing, but considering Maddy knocking on the door became a full-fledged meme, the reference definitely seems more intentional.