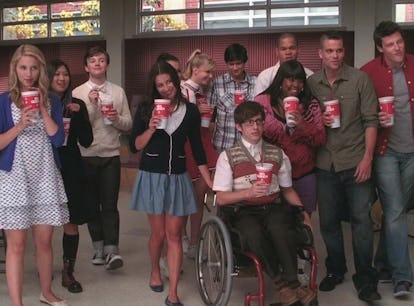 Here Are The 10 Most Unhinged Glee Performances Of All Time
You just can't look away.
Fox
Long before there was American Horror Story, Pose, or any of the many other TV series Ryan Murphy's produced over the last decade, there was one TV show that was the shining jewel of his empire: Glee. It was one very loud shining jewel, filled with hundreds of musical numbers over the course of its six seasons. From Broadway standards, to classic rock oldies, to some iconic pop star moments (anybody remember the Britney episode?), Glee truly covered it all. With so many performances over the years, there were bound to be a few that went a little — or in most cases, a lot — off the rails.
Let's be clear: Going off the rails isn't necessarily a bad thing, especially when it comes to Gleeks and their love of the show. Sometimes, the most unhinged performances on Glee are some of the most memorable ones. Part of the show's charm came from the fact that no matter the song, the New Directions fully committed to the bit and gave it their all. That resulted in some of the weirdest musical performances of all time. So grab a slushie, find your seat in the bleachers, and settle in for a little musical journey down memory lane.
All episodes of Glee are streaming on Hulu and Disney+ as of June 2022.