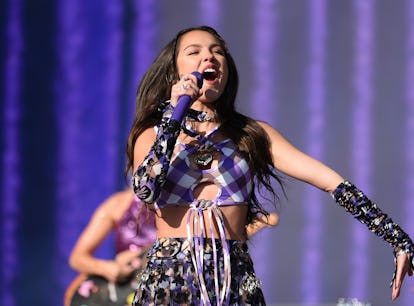 Olivia Rodrigo's Guts Tracklist Reads Like A Chaotic Diary Entry
Seriously, she has a chapter called "All American B*tch."
Matthew Baker/Redferns/Getty Images
Olivia Rodrigo wears her heart on her sleeve— and she's not ashamed of it. The singer rose to prominence baring her emotions (ahem, "Driver License,") and that lyrical melodrama helped push her Sour album to become the soundtrack of 2021. After a two-year hiatus, Rodrigo's closing the chapter of her debut to make room for her new album, Guts. Just days after sprinkling clues about the album's tracklist, the singer released the full roster on Instagram. And by the looks of the titles, Rodrigo's steadying listeners for a grungy, coming-of-age story.
On Aug. 1, Rodrigo revealed the tracklist in a brief Instagram video. The clip begins with the singer using a vintage typewriter, which has purple stickers smeared across certain letters. The camera then shakily pans up to show her typing out a list of 12 tracks, revealing names like "get him back" and "all american b*tch" in her signature lowercase font. On the following day, Rodrigo confirmed the typed tracklist in the video will appear on Guts.
This tracklist drop comes over a month after Rodrigo announced her new era on Instagram. "My sophomore album GUTS comes out September 8th. I am so proud of this record and I can't wait to share it with you all," she wrote in the June 26 post, which features the album's cover art. There, Rodrigo can be seen posed on a deep-purple floor. Her hand, which is cowering near her mouth, exposes the album title and chipped black nail polish that's become a timeless trend in the last few years.
There's something brooding yet messily chaotic about this cover art, and that blend might appear in the album's production. In a press release, Rodrigo revealed these new tracks (produced by her Sour counterpart Dan Nigro) will be emotional— but not in a teen anguish way.
"For me, this album is about growing pains and trying to figure out who I am at this point in my life," Rodrigo shared in a statement. "I feel like I grew 10 years between the ages of 18 and 20—it was such an intense period of awkwardness and change. I think that's all just a natural part of growth, and hopefully the album reflects that."
Guts' announcement follows the release of Rodrigo's single "Vampire," a seething, piano-driven middle finger to her exploitative ex. Here's everything to know about Rodrigo's forthcoming album.
Guts' Release Date
Rodrigo's second studio album will drop on September 8, 2023.
Guts' Tracklist
On Aug. 2, Rodrigo released the cover art for her album's tracklist on Instagram. The open mouth aesthetic is a perfect fit to Guts' tracklist. From the continued chipped nail polish and red lipstick, it seems as though Rodrigo's fully leaning into her indie pop era. That observation feels precise, as she revealed in her latest feature with Vogue that she's currently "obsessed" with artists like Tori Amos and the Yeah Yeah Yeahs' Karen O.
Check out the full tracklist below:
"All American B*tch"
"Bad Idea Right?"
"Vampire"
"Lacy"
"Ballad Of A Homeschooled Girl"
"Making The Bed"
"Logical"
"Get Him Back"
"Love Is Embarrassing"
"The Grudge"
"Pretty Isn't Pretty"
"Teenage Dream"
Pre-Order Info For Guts
Guts is available to pre-order now. Fans can also purchase the album as a CD ($14), a cassette ($15), and limited edition vinyl (which comes in red, white, blue, and purple) for $30.
Guts' Cover Art
Fans noticed Guts' cover art borrows a similar aesthetic to Sour. Rodrigo's toying with a similar lilac-meets-deep purple from her previous era, leading fans to believe this release could be a angsty continuation of her studio album. While the hues are similar, the singer hasn't hinted if Guts lyrically exists in the same universe as Sour. In a press release for "Vampire," her label stated the lead single is sonically imbued with "maturity" and "bold confidence," so there's a chance this growth might extend to the rest of the album.
Will Rodrigo Go On Tour For Her Guts Album?
Rodrigo has not revealed if she'll head on tour in support of Guts.
This article was originally published on