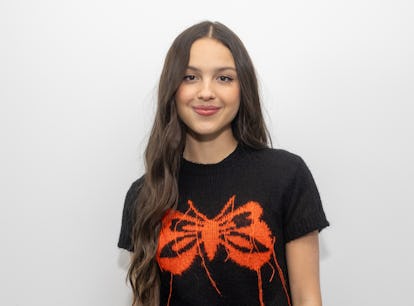 Olivia Rodrigo Dropped A GUTS Teaser Filled With Tracklist Easter Eggs
These song names are wild!
Emma McIntyre/Getty Images Entertainment/Getty Images
Break out your magnifying glasses, because Olivia Rodrigo just dropped a treasure trove of clues about her upcoming album GUTS, but you'll have to be incredibly perceptive to find them. On July 31, Rodrigo posted a one-minute clip teasing the announcement of the album's tracklist, but superfans don't have to wait any longer to deduce some of the new song titles. That's because Rodrigo's video is packed with Easter eggs that reveal what the GUTS tracklist will be. It may not be possible to spot every single song name just yet, but there are a lot that fans have already uncovered.
In the teaser video, Rodrigo rummages around a bedroom, picking up and moving items that will likely serve as important imagery for GUTS. At the very end of the clip, she lounges on her bed and types out "GUTS tracklist" on her typewriter, and suddenly, the bits of writing found scattered throughout the room took on a whole new meaning. See what song names you're able to find for yourself by watching the video first, and then we can round up all the tracks that have been discovered by fans.
Some of the most obvious song names show up in the top right of the video. A shirt on the ground reads "Obsessed!" in big red letters, and it's right next to a piece of paper with "Stranger" written on it atop the keyboard. Another piece of paper reads, "Now I hold it like a grudge."
Elswhere in the room, Rodrigo writes "Bad idea right" in red lipstick on her mirror. And after opening up her yearbook, we see that she's the sole member of her school's book club.
Given all these clues, fans have started putting together what the GUTS tracklist could very likely look like:
"Obsessed!"
"Stranger"
"Grudge"
"Bad Idea, Right?"
"Book Club"
But that's only part of the song list. Add those five possible titles with the already-released lead single "vampire," and there's still another half of the 12-track album that's a mystery. They could be hiding in plain sight, though. There also seems to be some writing on the skateboard in the teaser video, as well as some numbered candles on top of the birthday cake, and writing on an album Rodrigo removes from a box at one point. It's difficult to make those markings out, though, so it's up to the truly eagle-eyed superfans to see if they can find every single song name now.
GUTS is scheduled to release on Sept. 8.