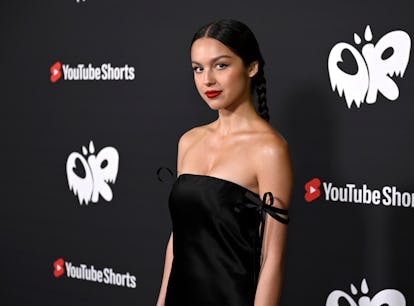 Olivia Rodrigo Knew Her Second Album Would Be Called GUTS A Long Time Ago
She wants her album titles to follow a specific pattern.
Timothy Norris/Getty Images Entertainment/Getty Images
Olivia Rodrigo is sinking her teeth into a new era, but it still has a strong connection to her debut. In fact, Rodrigo had thought up the title for her second album, GUTS, before she'd even released her first album. After ushering in the dark and moody new vibe with her monstrously massive lead single "vampire," Rodrigo explained the meaning behind the album title, and how it's linked to SOUR.
Rodrigo confirmed her album titles will be following a specific pattern while discussing GUTS in a June 30 interview on Apple Music 1. She chose the name GUTS while she was still working on her first album SOUR, because she liked the idea of her discography all consisting of four-letter titles stylized in all capitalized letters.
"I had it for a long time. I had it actually when I was making SOUR," Rodrigo said. "I'm like, 'I want the next one to be GUTS.' I had it in my head. I'm like, 'Four letters, all caps, just like SOUR.'"
Rodrigo revealed the album title, along with its purple and black cover, in an Instagram post on June 27.
Rodrigo went on to explain the meaning behind the title choice. She was drawn to the versatility of the word, and how it hits on various sayings and emotions that felt strongly connected to the album. "I just think it's an interesting word," Rodrigo said. "People use it in so many interesting contexts, like spill your guts. Hate your guts, I think is a really interesting term. Means bravery, but it also means intuition, like listen to your gut. I just think it's all of these things that coincidentally were things that I've really been thinking about in this chapter."
Fans got their first taste of this new era with "vampire," a vengeful power ballad directed at a leeching, opportunistic ex. Naturally, the superfans are already clinging to theories about who this ex-boyfriend might be, but as with "drivers license," Rodrigo probably won't be naming any names. Expect even more emotional bops that'll have you scream-crying your guts out when GUTS gets spilled on Sept. 8.