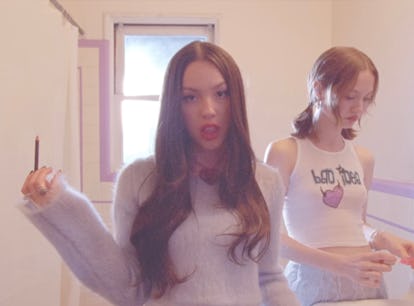 Olivia Rodrigo's New Single Is A Iconic Reminder To Block Your Ex
"Bad Idea Right?" is such a self-sabotage bop.
YouTube/@OliviaRodrigo
Get in, girls — it's time to stop Olivia Rodrigo from making some chaotic decisions. On Rodrigo's latest single "Bad Idea Right?," the singer is struggling to cut ties with her loser ex-boyfriend (her words, not mine). And while that sounds exhausting, the track's production is the complete opposite. This release is such a playful riff-driven hit, and shows that Rodrigo isn't afraid to add some whimsy to an already disastrous situation. That reality comes alive in the song's music video, which sees her going through the ringer (think of hitchhiking in the back of a stranger's truck) to visit an old flame. Yeah, hitting the block button has never sounded easier.
"Bad Idea Right?," which was released on Aug. 11, is the second offering from Rodrigo's upcoming album, Guts. She kicked off this new era with her single "Vampire," an atmospheric ballad about calling out a toxic ex-boyfriend. The Twilight-coded track is filled with some impressive disses, and her non-subtlety caused fans to theorize she was singing about an actual ex. However, for this new release, Rodrigo made it clear she wasn't inspired by her real-life relationships, but rather a 'what-if' scenario.
"'Bad Idea Right?' started with us making a joke song about me hooking up with an ex-boyfriend, but then we realized we were actually onto something," Rodrigo said in a press release. "We were throwing the weirdest things at the wall — in one of the choruses there's a part that sounds like an instrument in the background, but it's me gradually screaming louder and louder."
The Dan Nigro-produced track is deliciously maniacal, and fans can't get enough of it. "Bad Idea Right?" pulses with a sassy delusion that can only be seen in a nostalgic, coming-of-age film. You know, that multi-layered main character you want to root for, but she makes *way* too many bad decisions to justify supporting her. She plays that role well in the music video, so much so viewers might find themselves hysterically screaming "Girl, stand up" at the screen.
The Petras Collins-directed video begins with the singer attending a packed house party. And while she should be having fun, she's too busy thinking about her ex-flame she hasn't "heard from in months." That absence allures her, and she admits that to her friends (played by Madison Hu, Tate McRae, and Iris Apatow) in the bathroom. She's Regina George-coded in this scene; however, there's nothing fetch about meeting up with an irredeemable ex.
Rodrigo decides to leave the party to see her old boyfriend, and her journey there is wild. While raining, she hops in the back of a stranger's truck before it breaks down halfway through the ride. She then rides on a bus, where she gets randomly hit with a red slushy. She isn't fazed at the idea of potentially catching pneumonia while ruining her favorite lavender top, as she repeatedly coos: "F*ck it, it's fine."
At the end of the video, she finally reunites with her beau. He then suddenly bursts into flames, which provides the perfect answer to the question she's tried to tackle all night — yes, this was certainly a bad idea.