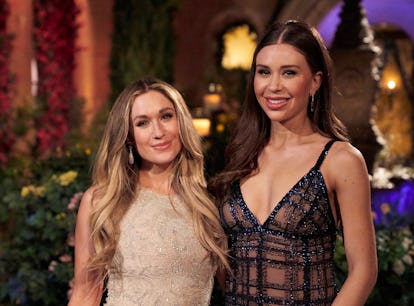 Here's Who Got Booted Off The Boat This Week On The Bachelorette
(ABC/Craig Sjodin)
Mondays look way different in Bachelor Nation these days — instead of the classic one-lead format, Season 19 features two Bachelorettes, Gabby Windey and Rachel Recchia. This twofer of a season means more men — 32 to be exact — and probably more drama. No one knows exactly how the season will play out, but it's clear Rachel and Gabby are in for a wild ride. To help you keep track of everything, here's your week-by-week recap of who went home on Gabby and Rachel's Bachelorette season.
When franchise host Jesse Palmer took to Clayton Echard's "After The Final Rose" stage to announce what's in store for The Bachelorette Season 19, he had a surprise up his sleeve: The next installment of the ABC show would have two leads, both Gabby and Rachel, who were simultaneously broken up with on Clayton's season of The Bachelor.
In the months since the announcement, Gabby and Rachel's friendship and excitement over taking this Bachelorette journey together had fans pumped for their joint season. But now that their season has arrived, Gabby and Rachel have to get down to the hard work of dwindling down a huge group of suitors to find their fiancés.
As always, some goodbyes will be shocking, while other eliminations will come after weeks of hate-watching. Here's the rundown of everyone who has peaced out so far.
The Bachelorette Episode 5 Eliminations (August 8)
Week 5 was pretty rocky right from the start. Rachel began the week ready to have fun with her group of guys, but Logan had other plans. After being invited on Rachel's group date in Belgium, he knew it was time to reveal the truth to her: He actually had stronger feelings for Gabby. Rachel was heartbroken to receive another rejection, so much so that she canceled the day portion of her group date. After a heart-to-heart with Jesse Palmer to help assuage her insecurities about being the Bachelorette, Rachel joined her guys for the night portion of the group date back on the cruise ship. They all comforted her, but Tino really stood out and received her group date rose.
Meanwhile, Logan told Gabby about his feelings for her, and she held up girl code by saying she needed to check with Rachel before making any decisions. She did, and Rachel told her that she didn't want to stand in the way of Gabby's journey, but she thought Logan was trouble. "At the end of the day I'm gonna support her no matter what, but I really want Gabby to send him home," Rachel said to the cameras.
Gabby took some time to think about it during the day portion of her group date exploring Bruges, Belgium. Then, during the night portion, Gabby's decision became clear when Logan joined the cocktail party. Even though Logan joined the group, Gabby gave her group date rose to Nate.
There wasn't time to dwell on that, though, because Rachel and Gabby needed to make time for their 1-on-1 dates, which were both super romantic. Rachel saw sparks fly with Aven, while Gabby found a deeper connection with Johnny. Both guys got roses from their respective Bachelorettes.
Going into the rose ceremony, the big question on everyone's mind was whether or not Gabby would give Logan a rose and allow him to continue as one of her guys for another week. Logan seemed pretty confident, and it turns out he was right to feel that way; Gabby gave him a rose during the rose ceremony, along with three other guys. She sent Mario and Michael packing, while Rachel sent Meatball (James) home.
Here's the full list of all the guys continuing to vie for the two Bachelorettes:
Gabby:
Nate
Johnny
Jason
Spencer
Erich
Logan
Rachel:
The Bachelorette Episode 4 Eliminations (August 1)
In a move that shocked fans, Rachel offered Hayden a rose during Week 3, even after she learned he'd called Gabby "rough around the edges." But he didn't stick around long after.
It all came to a head when Meatball (James) took it upon himself to bring up Hayden's bad behavior to Rachel, after he heard Hayden disrespect both Gabby and Rachel. At the cocktail party, James repeated what Hayden had shared, sending Rachel into a justified spiral. Rachel confronted Hayden and quickly sent him home.
Rewinding a bit, though, the majority of the episode was smooth sailing (pun very much intended). The cast left the Bachelor mansion to fly to France, where they began a multi-city tour of Europe via a cruise ship. Jason got a date with Gabby in Paris while Tino, Rachel's first impression rose-recipient, got Rachel's Parisian 1-on-1. Not much happened on either date, other than Rachel enjoying a huge glass of wine and Gabby feeling like a "bald baby" in her fitted beret, but both men ended their dates with respective roses, marking them safe heading into Week 5.
Then, the group dates brought some drama. Gabby's was more classic, having the men box each other, although Rachel's feelings of rejection overshadowed the actual boxing. Following that, Rachel's group date was truly unhinged — she had to smell her date's armpits and watch them make out with their own hands all in the name of seduction.
Following all the above, it was time for the rose ceremony, during which Gabby sent home Kirk and Quincey and Rachel sent home Jordan.
Here are all the men who will continue on to the next episode:
Gabby:
Jason
Spencer
Johnny
Nate
Michael
Mario
Erich
Rachel:
Tyler
Aven
Tino
Meatball
Zach
Ethan
Logan
The Bachelorette Episode 3 Eliminations (July 25)
In Week 3 of the double-Bachelorette season, it was already time for some change. Already this season, Gabby and Rachel had been having a bit of a hard time dating the same pool of guys at the same time. After the tension of them both liking Logan in the previous week, they tried going into the new week with a fresh start, agreeing to address their feelings directly with the guys.
First, Zach went on a 1-on-1 date with Rachel that was planned by Karamo Brown of Queer Eye fame. He helped them get ready to go to a Hollywood movie premiere together. Meanwhile, Gabby headed over to the mansion to get to know the rest of the guys a little better. She thought the extra time would help her feel better about the journey, but she left wishing she felt more of a connection with the guys.
Rachel's date with Zach went well and he got a rose, and then it was time for Gabby's 1-on-1 with Erich... and Grandpa John. Even though Gabby got pretty emotional about her journey as Bachelorette, she still felt the date went well and gave Erich the rose.
But Gabby still wasn't so sure about being the Bachelorette, and that feeling was only bolstered when Tyler, Hayden, and Jacob all told her they wanted to pursue Rachel instead of her during the week's group date. That prompted Gabby and Rachel to take control over the situation and demand that the guys choose one of the two of them to continue to pursue for the rest of their time on the show. During the rose ceremony, Rachel and Gabby divvied up the remaining guys and offered them roses, asking that they agree to only date the Bachelorette whose rose they accept. Things got a little messy when Termayne, Alec, and Meatball all rejected Rachel's rose because they wanted to pursue Gabby, but Gabby didn't have roses for any of them. They had to say goodbye, along with Jacob, who was not offered a rose by either Rachel or Gabby.
Here's the breakdown of the guys remaining as the show heads into Week 4:
Gabby
Erich
Nate
Johnny
Spencer
Jason
Mario
Kirk
Quincey
Michael
Rachel
Zach
Aven
Tino
Logan
Tyler
Ethan
Jordan
Hayden
However! The credits scene for the episode revealed on of the rejected men came back and asked for another shot with Rachel: Meatball, who told Rachel he wasn't thinking clearly when he said he wanted to go for Gabby. Whether Rachel allows Meatball to rejoin the cast and pursue her remains to be seen.
The Bachelorette continues Mondays at 8 p.m. ET on ABC.
The Bachelorette Episode 2 Eliminations (July 18)
Episode 2 of Rachel Recchia and Gabby Windey's season of The Bachelorette packed a dramatic punch. From Fantasy Suite discussions to shocking eliminations, Rachel and Gabby did not come to play this week. The episode started calmly with a classic Bachelor Nation move — all the men had to strip down to tiny swimsuits and sell themselves to Gabby and Rachel, beauty pageant style.
After the date, Logan, Jason, Aven, Brandan, Johnny, and Colin were picked for an exclusive after-party with Rachel and Gabby at their house. Rachel didn't love the party, though, already feeling rejected when Jason honestly admitted he was there for Gabby and not her. Thankfully, things got better when Logan and Rachel hit it off and kissed... except both Gabby and Rachel like Logan, giving fans their first glimpse into how awkward this season could wind up being. By the end of the night, Rachel gave Logan a rose and Johnny got Gabby's.
Then, Rachel was looking forward to her 1-on-1 with racecar driver Jordan V., but that quickly fell apart when she realized she didn't like him and wanted to send him home. Gabby's 1-on-1 with Nate went a quite a bit better, luckily, and he got a rose.
Heading into the cocktail party, three men had roses: Logan, Johnny, and Nate. And after a pre-ceremony elimination for Chris Austin, it was time to see who else would get the boot. Those unlucky dudes turned out to be Brandan, Ryan, Chris, Colin, John, Justin B., and Matt.
Rachel and Gabby still have a lot of men on their hands though — 21 to be exact. Here are all the contestants who got a rose:
Jason
Aven
Erich
Zach
Jordan
Quincey
Michael
Tino
Jacob
Tyler
Termayne
Hayden
Meatball
Kirk
Spencer
Alec
Ethan
Mario
Logan
Johnny
Nate
The Bachelorette Episode 1 Eliminations (July 11)
On Night 1 of this new Bachelorette format, the contestants came to make an impression with a ton of wild entrances (see: a children's choir singing "Clayton sucks") and memorable moments — like Tino and Rachel reclaiming the stairs with a hot makeout session. Despite liking Alec's entrance with the choir, Gabby and Rachel got fed up with all limo entrances that mentioned Clayton. Frankly, no one wants to be reminded of that breakup.
As Gabby and Rachel started meeting the men, they noticed something was a little off: no one was making the move to kiss either of them. A quick cut to the men discussing their strategies showed that some of the contestants didn't want to kiss both of them so they decided to abstain on Night 1. Although the idea is sweet, the men who didn't follow that plan had a much more successful night.
Naturally, after Rachel's makeout sesh with Tino, he got her First Impression Rose, upsetting Aven and Jordan V. who she also hit it off with. Gabby handed her First Impression Rose to Mario who joked around with Gabby and got into what it means for him to open up. Erich was really disappointed by this decision, especially after their kiss, but Gabby also kissed Mario and said she liked the questions he asked.
Both the leads struggled to come to decisions about who to eliminate because they weren't able to talk to each contestant — there's only so many hours in a night — but Jesse's perfectly timed, very scripted pep talk encouraged them. For the first time, audiences saw how this season might go with Rachel and Gabby getting to discuss who they're into and who they're ready to eliminate.
On Night 1, the two leads broke Bachelor Nation rules by canceling the first rose ceremony and instead having a very intimate breakup with Roby, and the twins, Justin Y. and Joey. This decision to keep all the rest of the men, even the ones they didn't talk to, leaves a lot of men (29 to be exact) to continue pursuing Gabby and Rachel. Here are all the contestants going into Week 2:
Alec
Aven
Brandan
Chris
Colin
Erich
Ethan
Hayden
Jacob
James
Jason
John
Johnny
Jordan H.
Jordan V.
Justin B.
Kirk
Logan
Mario
Matt
Michael
Nate
Quincey
Ryan
Spencer
Termayne
Tino
Tyler
Zach
This article was originally published on