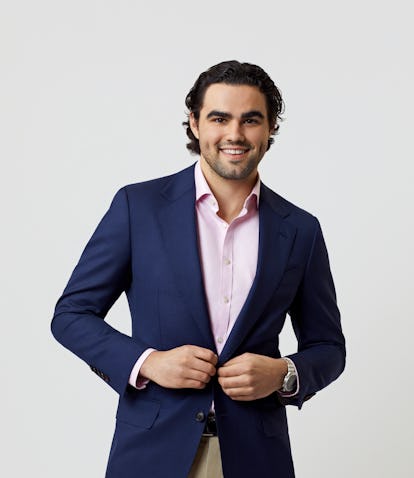 An Ode To Meatball's Impressive Run On The Bachelorette
He made it much further than anyone thought.
(ABC/Ricky Middlesworth)
If you thought you were getting good at predicting The Bachelorette, you might be in for a reality check, because a man nicknamed "Meatball" stirred up a ton of drama on Rachel Recchia and Gabby Windey's journey to find love. (Yes, you read that right.) James "Meatball" Clarke had a pretty tame entrance to the mansion, but he ended up having a different, more dramatic path for this Italian food enthusiast.
On Night 1, James came out of the limo carrying a super-long meatball sub that immediately gained Rachel and Gabby's attention — Gabby even joked, "You handle those balls well." He got some laughs from the men, too, for his fantastical entrance, but didn't make much more of an impression on the two leads. Due to Gabby and Rachel's unprecedented move to cancel the first rose ceremony and quietly dismiss only three contestants, James was still left in the running for their love.
All seemed to be going well for James — who is actually a real estate broker IRL — but a promo for the upcoming episodes gave fans another look at him. In it, James brings Gabby and Rachel's fear to life by rejecting a rose from Rachel and declaring that he's only there for Gabby.
Read on for more info about James and his time on The Bachelorette.
James "Meatball" Clarke's Bachelorette Journey
James was originally cast for Clare Crawley's season of The Bachelorette, but, for unknown reasons, didn't show up at the mansion until Gabby and Rachel' season.
Fast-forward to Season 19, James didn't make a huge impression on Gabby or Rachel — other than his meatball sub, of course — in the premiere episode, but he did receive a rose. He made it all the way to Week 3, which is when Gabby and Rachel had the guys "pick a lane" by choosing just one of the two Bachelorettes to date. Rachel offered James a rose, but he turned her down because he said he was more interested in Gabby. Unfortunately for James, Gabby wasn't interested in him, so he was sent home at the end of that rose ceremony.
But that wasn't the last fans saw of Meatball in Season 19. He managed to make his way back to the mansion to ask Rachel for a second chance, which she granted him. So, James went to Europe with the rest of Rachel's guys. He got pretty involved in the season's drama by being the one to inform Rachel about fellow contestant Hayden Markowitz's disrespectful comments. After that, James stuck around a little longer, but he didn't get much screen time, or — apparently — much time with Rachel. He was eliminated in Week 5, leaving a lot of Bachelor Nation wondering when and where they'll get to see Meatball and his sub next.
James "Meatball" Clarke's Job
James' ABC bio may say he works as a "meatball enthusiast," but unfortunately for everyone, that isn't a real job. According to his LinkedIn, James actually works in finance and is on the way to getting his MBA at DePaul University. He also got his real estate broker license in 2019, so that very popular Bachelor Nation career could be next for him post-show — that is, of course, if his career in meatball enthusiasm doesn't take off.
James "Meatball" Clarke's Family & Hometown
James grew up in Winnetka, Illinois, where he played basketball through high school. It seems James might actually be pretty good at basketball, too — in 2018, he posted a photo of himself in a jersey and shorts, presumably playing basketball in Barcelona.
James grew up with his parents, Kathleen and Glen, as well as two sisters, Grace and Elizabeth. Family is clearly very important to James; his ABC bio even says he wants six children — that's a lot of meatballs.
James "Meatball" Clarke's Age
James is 25, a year younger than Rachel, and six years younger than Gabby.
James "Meatball" Clarke's Instagram
James tends to post family pics, birthday shoutouts, and #TBTs to his basketball days on social media. He posts with location tags in both Los Angeles and Chicago, where he's getting his MBA, so he could end up in either place post-show.
This article was originally published on