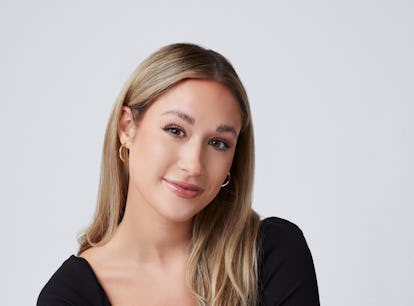 Everything To Know About New Bachelorette Rachel Recchia
She's got something big in common with Peter Weber.
ABC/Ricky Middlesworth
First there was Jake Pavelka. Then there was Peter Weber. And now a new Bachelor Nation pilot is flying high. Rachel Recchia is a professional flight instructor who formed a strong connection with Clayton Echard during Season 26 of The Bachelor. Rachel and Clayton had a really strong connection, one that Clayton said was the strongest physical connection of his season. But, that connection wasn't enough to eclipse the "once in a lifetime" love Clayton felt for Susie Evans, so he broke up with her during the dramatic Season 26 finale. Now, though, Rachel is going to get another chance at love in Season 19 of The Bachelorette.
If there's one big thing to know about Rachel before her season, it's that she loves her job, and she wants a partner who will support her passion. During their date in Houston, Rachel told Clayton just how important her career as a pilot is to her. She explained that she always knew she wanted to be a pilot, but her last partner wasn't supportive. Clayton promised to never hold her back from her career, which made Rachel really emotional. Her relationship with Clayton may not have worked out, so she's still looking for someone to fly high with her. Here's everything you need to know about her life as a pilot, plus all the other important details that will factor into her time as the Bachelorette.
Rachel Recchia on The Bachelor
Rachel was a frontrunner pretty much from the start of Clayton's Bachelor season. She fell for Clayton hard and things went pretty smoothly for them, even during hometown dates when Clayton won the approval of Rachel's tough dad. But once they got to Iceland for the fantasy suite dates and finale, Rachel learned Clayton was in love with all three of his final contestants. She was pretty heartbroken over the news, but was ready to fight for their relationship. However, Clayton really broke her heart when he sent her home just a few days later in a "double-break-up" with Gabby Windey.
Rachel Recchia's Bachelorette Announcement
Rachel is ready for her comeback story, and she's going to get it in a double Bachelorette season alongside her friend. Rachel and Gabby were both announced as the Bachelorettes for Season 19 of the show, so Bachelor Nation will get to watch the friends each find love alongside each other. It's not entirely clear how a season with two simultaneous Bachelorettes will work, but fans will find out this summer.
Rachel Recchia's Real Job
As I mentioned, Rachel is proud to be a commercial pilot and flight instructor, a fact she displays in her Instagram bio. Even her Instagram handle, @pilot.rachel highlights her career, and it might also be a nod to former Bachelor Peter Weber, whose Instagram handle is @pilot_pete.
Before she became a pilot, Rachel was a cheerleader at Ohio University.
Rachel Reccia's Instagram
In addition to pictures highlighting her career as a pilot, Rachel's Instagram is full of photos from beautiful locales all over the world. It makes sense that Rachel gets to travel a lot since her job is literally to fly places, and some of those places include Italy, Thailand, and Niagara Falls. She also posts some gorgeous views straight from the cockpit, so her followers can feel like they're up in the air themselves.
Rachel Recchia Facts
Rachel is 25 years old and is from Clermont, Florida. She's looking for "crazy, insane love that makes sense to no one else but her and her soul mate," according to her ABC bio. She also calls herself a "hopeless romantic" and is looking for someone "as playful, passionate, and spontaneous" as she is. Hopefully she'll find all that and more this season on The Bachelorette.
Season 19 of The Bachelorette premieres Monday, July 11, at 8 p.m. ET on ABC.
This article was originally published on