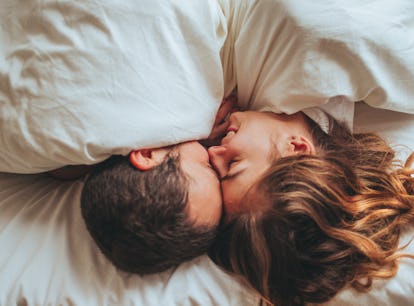 45 Kinks To Try For A Spicier Sex Life
Bondage, dirty talk, and power play, oh my!
AleksandarNakic/E+/Getty Images
Curious about kink, but not sure where to start? You're not alone. Part of the thrill of kink is doing something that feels a little bit taboo, but kink tends to be a moving target; one person's "kinky" is another person's typical Tuesday night. Preferences will be different for everyone, and it's all about finding what makes you feel good. If you're ready to experiment, I've got you covered with the ultimate list of kinks to try, where you'll find sexy acts, titillating dynamics, and hot ideas for a spicy sex life. If you're interested in exploring your turn-ons, this list is a great place to begin.
To explore kink on your own, you can masturbate, consider a specific fantasy you have, or find porn or erotica focused on the elements from this list that catch your eye. Many kinks can be enjoyed entirely solo, but if you decide to include other people in your kink, make sure you have a conversation with your partner(s) before trying anything new — and continue checking in while you play. Like all healthy sex and intimacy, kink is rooted in consent and communication.
If you're new to kink, it can help to stick with clear, direct communication about your desires (for example, clearly telling your partner "yes" or "no" while playing — and "no" means "no"). You can also use safe words — where you choose a word or phrase that's easy to remember if you want a kink scene to stop — or something like the "green, yellow, and red scale," which can help you communicate your level of comfort in a simple, straightforward way. This can be helpful for beginners since the system is widely understood, and you're less likely to forget a color than an off-the-wall word you came up with moments before play.
So, without further ado, here is a list of kinks to try if you're ready to spice up your sex life.
What's The Difference Between A Kink & A Fetish?
The terms "kink" and "fetish" are often used interchangeably. "Kink" or "kinky" is typically used as a catch-all term for anything considered a little edgy and is usually associated with BDSM. Sex therapist Dr. Gloria Brame previously told Bustle, "A kink is any kind of nonconformist erotic interest — from fetishes to BDSM and other non-mainstream erotic interests and practices outside the heteronormative scale."
According to Brame, a fetish falls under the kink umbrella and involves "an erotic attraction to objects or specific parts of the body." For example, if someone has a foot fetish, they may be fantasizing about feet, looking at feet, or playing with feet in order to get turned on or get off.
Although fetishes and kinks are closely tied and often described as non-normative sexual interests, studies consistently show that most people engage in one or more kinks — and there are many fun ones you can try.
Now that you're full of ideas, it's time to get kinky! Don't be afraid to experiment with something new, and always remember to use clear communication with your partner(s) to make sure you're practicing kink safely. You can even share this list with someone you want to play with and see if the same kinks jump out at them — maybe you'll find something you're both into! Apart from this list, if you want to learn more about kink, you can also check out The Topping Book and The Bottoming Book by Janet Hardy and Dossie Easton. Have fun!
Expert:
Dr. Gloria Brame, sex therapist & author
This article was originally published on