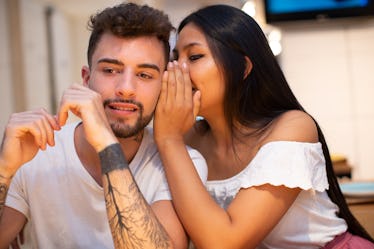 26 Dominant Things To Say In Bed That'll Make Your Partner Blush
TBH, we're blushing already.
Nicoleta Lupu / EyeEm/EyeEm/Getty Images
If you're looking to have a lovemaking experience that's a little less like The Notebook and a little more like Fifty Shades of Grey, then it might be time to experiment with BDSM. Whips and chains may excite you, but if you're new to the world of BDSM, you don't necessarily have to pull out the bondage gear right away. Verbally taking on dominant and submissive roles is a great way to create a power dynamic in the bedroom, and you and your partner may already be using BDSM dirty talk phrases without even realizing it.
As sex educator, instructor, and coach Lola Jean previously explained to Elite Daily, BDSM contains three subcategories: Bondage/Discipline, Dominance/Submission, and Sadism/Masochism. "This is the overall umbrella under which most kinks fall," Jean said. "It can contain all elements or only one. BDSM holds no space for judgment." These erotic practices are all about trust and mutual pleasure, combining sex, power, and possibly pain (if you and your partner are into that) in a way that's exciting and fun. A healthy BDSM relationship can be cultivated with dirty talk, which allows you and your partner to explicitly state your desires. Constant communication is key to any healthy relationship, and these BDSM phrases will help get you started.
This article was originally published on