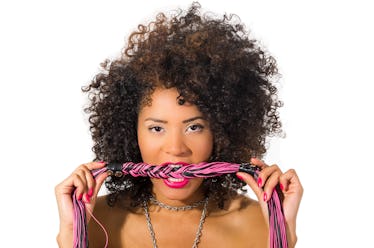 10 BDSM Myths, Debunked By Experts, That'll Change The Way You Kink
Shutterstock
If Hollywood made a blockbuster film about all the common misconceptions about BDSM, it would be called 50 Shades of Grey Area. From outdated ideas to complete misrepresentations, there is no shortage of faulty information out there about BDSM. And while experimenting with kink may not be everyone's cup of tea, listening to experts spill the tea about BDSM can help everyone stay informed.
"BDSM is something that the general population doesn't know much about," Kayna Cassard, sex therapist and founder of Intuitive Sensuality, tells Elite Daily. "So, they make up stories about what it means for people who engage in it." According to Cassard, the lack of accurate information about BDSM often leads people to stigmatize the practice. "Our stories are often informed by [outdated or limited] belief systems," Cassard says. "When you have those systems filling in the blanks on something like BDSM, there is a lot of negative judgment about it." Whether you're just starting to dip your toe in the kink world or you're a BDSM babe that's tired of correcting all the misinformed stereotypes, knowing the real tea about the kink community can be super helpful.
Here are 10 common misunderstandings about BDSM, cleared up by experts.