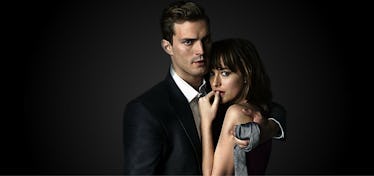 The 5 Biggest Misconceptions 'Fifty Shades' Has About BDSM, According To An Expert
Universal Pictures
The wildly popular Fifty Shades films are based on E.L. James' erotic novels: Fifty Shades of Grey, Fifty Shades Darker, and Fifty Shades Freed. The story follows Anastasia Steele as she is introduced to the world of BDSM by wealthy businessman Christian Grey. But is Fifty Shades an accurate depiction of BDSM? Does James' representation of this complex lifestyle do it justice?
For many people, the Fifty Shades franchise served as an introduction to the BDSM lifestyle. It's clear that James helped open up the conversation about dominance and submission by bringing BDSM into the mainstream. But despite all the PR Fifty Shades provides for the community, does the series do more harm than good?
In the first installment of the trilogy, Ana is a 22-year-old virgin when she meets Christian, an absurdly rich entrepreneur who's older, more powerful, and kinkier than she is. He gifts Ana a laptop and asks that she uses it to research BDSM, which she does. He also insists that she sign a binding contract laying out the specific terms of their sexual agreement. In the film, the contract's purpose is to "allow the submissive to explore her sensuality and her limits safely." Another line states that "the submissive will agree to any sexual activity deemed fit and pleasurable by the dominant."
In reality, BDSM involves a range of behaviors and practices. How the partnership functions depends on the type of dynamic and the specific preferences of the individuals involved. Just like in relationships without kink, no two BDSM relationships look exactly the same.
Ana and Christian's relationship has been scrutinized for a number of reasons, but let's focus on their submissive and dominant roles for now. The overall plot may not be so believable, but are the BDSM elements at least well-researched? I spoke to Dr. Charley Ferrer, intimacy and sex expert, BDSM educator, and founder of BDSM Writers Con — an educational conference for writers and readers of dominance and submission — about what Fifty Shades gets right and wrong about BDSM.
1. You Should Have An Aspect Of Vanilla
Ana and Christian often make fun of "vanilla" relationships. In BDSM culture, the term vanilla is subjective, but it generally refers to a person or behavior that is "normal," bland, or without kink. In the films, the couple rolls their eyes at the idea of anything vanilla, but according to Ferrer, this shouldn't be the case.
"The really good relationships do have an aspect of vanilla, where you're acting as your day-to-day lives and you incorporate the dominant factor into it," she says. "You don't stop looking at the needs of your submissive because you're a dominant. In fact you actually look more to their needs." Couples who engage in BDSM still live traditional lives. They go grocery shopping, do laundry, and have hobbies that don't involve cable ties.
2. The Red Room Is A Little Over The Top
Christian and Ana often have sex in the Red Room — Christian's playroom filled with all sorts of toys, whips, and chains. In Fifty Shades Freed, the room includes at least one vibrator, a spreader, and a drawer of butt plugs; a silk blindfold and handcuffs also appear throughout the movie. Ferrer says that a lot of these D/s (Dominance/submission) toys are used in the lifestyle. "Whether he knows how to use them is a different story," she says. Ferrer explains that the choice of toys depends on what the couple enjoys. Some partners prefer handcuffs and blindfolds, for example, while others like bondage rope.
As far as the room is concerned, Ferrer says typical spaces are not so elaborate. Most couples do designate a place to play, and some people do have the luxury of a separate room. But more often, partners play in common areas such as the living room, bedroom, or kitchen. "You also don't want to have to be on 24/7," adds Ferrer. You might actually want a room that serves the opposite purpose. Some couples have a place where they keep it strictly vanilla and simply cuddle or lay quietly.
3. Pain Is Only Part Of The Dynamic
Ferrer explains that BDSM doesn't exist in a vacuum — it isn't a shameful or secret activity that separates people from the outside world. Healthy BDSM relationships are about being vulnerable, guiding one another, and accepting one another for who you are, which the Fifty Shades universe doesn't always show.
While Ferrer believes that Fifty Shades illustrates BDSM in a better light than older films such as 8mm, she also thinks that "a lot of reality was lost" in both the books and the movies. "D/s and master and slave relationships are about a hierarchy," says Ferrer. "They are about structure, protocol, respect. A lot of the newbies are coming in and they don't understand the dynamics."
In the first film, Ana asks Christian to punish her to show her how bad it can get. "There's pain involved in some play, but we're not there to injure you. We're not disconnected from the feeling," says Ferrer. She describes it as a dichotomy; without tenderness and vulnerability, there can't be discipline or control.
4. Dominants Don't Actually Lack Emotion
Perhaps it's the way James wrote the character, or maybe it's actor Jamie Dornan's portrayal of Christian. Either way, the biggest discrepancy Ferrer cites is Christian's cold nature and mistreatment of Ana. His role as a dominant is likened to his lack of affection toward Ana, which was a misleading choice. In the Fifty Shades Freed film, Christian withholds affection when Ana needs it the most. He does this not once, but twice in the span of the movie. First, after she is nearly abducted at knifepoint, because she disobeyed his request not to go out with her friends; then again when she reveals she accidentally got pregnant even though he's not ready to be a father.
Ferrer says that when your submissive does something that displeases you, you may punish or restrict them, but you aren't unnecessarily cruel. "I've never seen any of the dominants that I know withhold affection at a moment like that," Ferrer says in reference to the scene where Ana is almost abducted. "They might get upset and say you're going to be punished later, but in that moment? No. In that moment you give what's needed. Especially in a time of trauma."
5. BDSM Should Never Be Abusive
The overarching issue, Ferrer explains, is that it's like Christian is playing a role and forgets to be human. This leads to a loss of connection between Ana and Christian. In the books and movies, Christian's cold behavior is traced back to a traumatic childhood and early sexual relationship with a much older woman, but these "explanations" are problematic as well. The series conflates Christian's difficult past with his sexual preferences, which perpetuates the common misconception that people who enjoy BDSM are somehow "damaged." The belief that the only reason someone is into D/s is because they were abused as a child or want to abuse others is an unfair generalization, according to Ferrer.
"I think the piece that [Fifty Shades] misses is the actual emotional connection between the partners, especially when they're engaging in the D/s. They don't have that, and it's a very big disconnect," she says. Love and affection are actually very important parts of BDSM relationships, and these key aspects are lost in Fifty Shades.