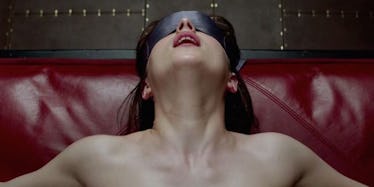 3 Reasons Why '50 Shades' Is More About Emotional Abuse Than BDSM
Elite Daily
"Fifty Shades of Grey" is known for a lot of things. It's basically a "Twilight" fan flick about BDSM sex that's sold millions of copies worldwide.
Christian Grey is suddenly more famous than his vampire counterpart — what was his name? — and kinky sex has become a national discussion.
And, no one's really sure how it happened. No one can quite pinpoint exactly what's so intoxicating.
Is it the emotionally disturbed, two-dimensional characters, somehow both formulaic and unrealistic? Is it the cheesy dialogue, the over-the-top drama, the poorly-written storyline?
Is it the constant nudity, or the all-too-scripted sex scenes that are disturbing, boring and not at all steamy?
Maybe, no one knows. Maybe, it's like Miley Cyrus; we just can't tear our eyes away from the slow, steady, inexplicable, yet captivating destruction. Maybe, it doesn't matter. Somehow, it happened, anyway.
But, even though the sex scenes were mechanical and anti-climactic (pun intended), the movie was still deeply, deeply disturbing. I didn't believe a word of it, and yet, I found myself cringing and enthralled at the same time.
I couldn't look away -- not because of the sex, but because of everything else.
This is not a movie about weird sex. Put weird sex in a rom-com, and it's hilarious, fun and catchy. But, this movie, even without all the weird sex, would still be one of the eeriest, most unsettling movies I've seen.
The sex is not the problem; the problem is watching a shy, inexperienced girl enter into an emotionally abusive relationship with a manipulative, domineering control freak who makes her miserable, and with whom she falls in love.
This is not a movie about sexual abuse; this is a movie about emotional abuse -- here's why:
The relationship is not effectively established before experimental sex is introduced.
BDSM is the trendy sex movement and many couples are beginning to experiment with various forms. Sexual experimentation is not only normal, but also healthy.
Two people who have established an arrangement in which they feel safe and comfortable may happily choose to explore.
The most effective models of this arrangement are an exclusive, patient and fully communicative relationship, but the mechanics are secondary. (Contractual arrangements devoid of romance are possible and, for some, pleasurable and preferred.)
The most fundamental, most crucial elements in any relationship are trust, openness and acceptance. After the fundamental relationship is established, many couples find exploration invigorating, exciting and beneficial for the relationship itself.
But, the "Fifty Shades" relationship did not include these things.
Steele originally backs away from not only the sex chamber, but also Christian Grey himself. She says goodbye, and tells him she's not interested.
And, yet, he pursues her, using seduction as a tool. This is misleading because the sex he offers her before the arrangement is significantly different from the sex he offers after.
The relationship used to garner her acceptance is fundamentally different from the one she is ultimately offered.
Sex was not a symptom of a healthy, open, sexually curious relationship. It was not an avenue of exploration to bring two people closer.
Instead, sex was the crux of a non-relationship to which she became a slave, and with which she could not allow her feelings to become engaged.
Sex and feelings were not only separate, but also intentionally divided; feelings were forbidden, while sex was pushed.
The power structures of the BDSM arrangement bleed into the power dynamics of the relationship itself.
Two people can get together and do what they like. Things can get weird. That's fine.
But, it is not natural for the power structures of the BDSM dominant/submissive arrangement to become the scaffolding for the power dynamics of the relationship itself.
The movie portrays a man who is domineering, controlling and demanding while in the sex chamber, and that's not bad if Ana is up for that. The heartbreaking aspect of this arrangement is that Christian is always those things.
He is possessive, manipulative and overly forceful in every aspect of life, while her voice is drowned amidst his demands. She has no agency in the bedroom, and she has no agency out of it.
Christian Grey's most frequent lines are something to this effect; something that says, "I will not condescend to compromise. My needs are more important than yours." Perhaps, a better translation is this:
This is how I am. You cannot change me, you cannot influence, and I will not change my habits for you. You do not matter and your opinion does not matter. This is my life. It is a privilege for you to be in it. That is all.
Needless to say, this is unhealthy. When the needs — emotional, psychological, social — of one person are not only ignored, but actually squashed by the other person, disaster ensues.
And, it's not funny or adorable, but rather, heartbreaking, ego-annihilating and emotionally traumatizing.
Weird sex games are one thing, emotional abuse is another. Ladies and gentlemen, if you are interested in sexual exploration, particularly BDSM, these bedroom games need to be locked in the bedroom.
Dominant/submissive role-play can be a way to spice things up, but they are not labels for a holistic relationship.
Relationships are about compromise, communication and two-way generosity. If the BDSM bleeds beyond the bedroom, it's time to stop.
She forfeits her own stability and happiness to please someone who takes advantage of her, manipulates her and does not reciprocate.
I'll reiterate: Relationships are about compromise -- ask anyone who's ever been in one. But, we cannot overlook this one key truth: Compromise must be a team effort.
The downward turn in the movie is when Steele is crying on the phone and can't tell anyone why. She is alienated from her friends, her family, even herself, because she has become submissive in life, not just in the sex chamber.
In a relationship that requires her full attention, she is desperately unhappy and psychologically trapped. She not only obeyed, she also sacrificed.
She sacrifices happiness, freedom, voice, agency and relationships — all for a sexual deviant and emotional tyrant.
His small advances toward "normalcy" are marginal compared to the life changes she arranges to please him. This uneven submissiveness sparks feelings of emptiness, loneliness and discontent.
She stays because it's exciting for a while, and eventually, she falls in love with him. But, as intoxicating as love is, there is never just cause to be emotionally thrashed and wounded.
You are a person, as valid as everyone else, and it is unfair to set aside your needs to please someone who will not do the same for you.
If nothing else, though, it's encouraging that even the stars are disgusted by the love story. Maybe if Freud were still around, we'd understand why such a sick story has engrossed millions of people worldwide.
Or, maybe, it's better we don't know.