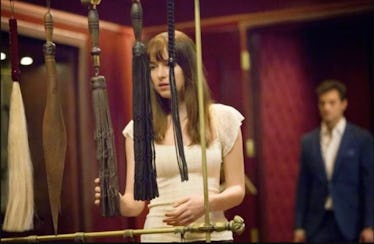 3 Sex Positions For People Who Want To Try Bondage That Will Teach You The Ropes
Universal Pictures
If you're just dipping your toes into the kinky end of the pool, you may be on the prowl for some sex positions for people who want to try bondage. Whether you've listened to Rihanna's "S&M" more times than you can count or have always been curious about incorporating some kink into your sex life, there's no shame in feeling a little intrigued by BDSM, or curious enough to want to try it out yourself. When starting to experiment with bondage, it's important to remember that diving into the kink pool doesn't need to feel intimidating. Unlike extreme sports or wacky science experiments on Youtube, these moves can actually be tried at home.
Incorporating more physicality into your sex life may call for you and your partner(s) to develop a safe word, perhaps discuss "aftercare," or engage in the types of conversations you'll need to have after an intense sexual interaction — like a verbal debriefing or some nonsexual physical contact. When trying any new sexual activity, especially those on the kinkier side, it's paramount to talk consent and boundaries before taking the plunge.
If you've talked the talk and you're ready to rumble, these three beginner bondage positions can really help you learn the ropes.