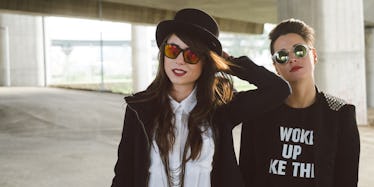 Science Says Bondage May Be Perfect For Relieving All Your Stress
Stocksy
Do chains and whips excite you? Regardless of how you answered that question, read on. Live a little.
BDSM (bondage, discipline, sadism and masochism) has traditionally been a very taboo subject, for understandable reasons.
Many people are likely uncomfortable with the idea of mixing pleasure with pain, as it seems rather contradictory.
Not to mention, practitioners of BDSM have often been stigmatized as perverted individuals with sick and twisted preferences.
Yet, a recent New York Magazine article from Roni Jacobson is challenging these perceptions.
It suggests there is a positive link between BDSM and mental health.
We all relieve stress in different ways, and some are more healthy than others. Some of us rely on exercise for stress reduction. The more self-destructive of us might turn to alcohol or drugs.
Regardless of their ultimate impact on our bodies, these activities are all forms of escape.
They take us to another place, in which we are finally able to forget about the various concerns that plague our minds.
Recent studies have suggested that BDSM can have a similar effect.
As Jacobson explains, practitioners of BDSM argue they are engaged in much more than just kinky sex. They contend the practice is good for their psychological well-being.
Concurrently, recent research has actually supported many of these claims, suggesting that BDSM may help reduce anxiety.
This all has to do with what practitioners refer to as "rope space" or being "rope drunk." When people participate in bondage activities, they have to relinquish total control. This is why participants are called "submissives."
In the process of relinquishing control, the submissives enter a trance-like state, an alternate state of consciousness. Simultaneously, all of their worries and woes seem to evaporate, or at least while they are still tied up.
It's a lot like yoga or other forms of meditation, only there are ropes, whips, chains and likely someone in a gimp mask.
Once the ropes are untied, reality comes rushing back in, and the spell is over.
Those who are on the other end of the ropes, the "doms," also experience stress reduction, given the amount of concentration and focus it takes to participate.
While the science behind this is still in its infancy, it's notable that several different studies have helped confirm this trend. One such study suggests that the stress-reduction experienced via bondage might be explained by the way the brain functions.
The pain involved in bondage and sadomasochism causes blood to flow away from the brain to the parts of the body experiencing these sensations. Blood flows away from what is known as the dorsolateral prefrontal cortex, which is the part of the brain that regulates higher-level functions like working memory and executive control.
This might also help explain the alternate state of consciousness these activities seem to induce.
Studies also suggest that people willing to engage in BDSM might already be less neurotic than those who prefer more "traditional" sexual practices. In other words, BDSM practitioners might already be less anxious in general in comparison to other people.
Does this mean you should run out there and try BDSM? Not if you don't want to, but it's definitely something to think about while you're watching Fifty Shades of Grey.
Don't worry, this is a judgment-free zone.
Citations: Can Bondage Play Reduce Anxiety (New York Magazine ), Consensual Sadomasochism May Actually Lead To Altered States Of Consciousness (Huffington Post), Consensual BDSM for stress relief (Stealth Domme )